Business
6 Best Google Slides Themes For Your Business Presentation
In today's world of fierce competition in almost all areas of the market, any business must be well-presented to consumers and potential investors. The success of your idea and its long-term perspective will depend on these two groups of people. One of the ways to announce yourself to the world is to organize a presentation. In this way, you can talk about a new product, services, the opening of a new branch, or simply advertise your main idea in general.
Many modern players in the market believe that this method is outdated and prefer exclusively digitalized interaction, such as targeting Instagram or sending Email Automation. However, presentations as a way of advertising have a lot of positive sides, and here are a few of them.
Advantages Of Using Presentations In Business:
Live interaction. Presenting something new related to your company opens up an opportunity to physically meet potential customers and sponsors. This is a good opportunity to return to the old-fashioned, primitive way of doing business and plunge into the world of live communication, chatting about your idea, and shaking hands with investors. By communicating in real life, the chances of making a good first impression increase. It is also easier to interest potential customers and gain their trust in a friendly atmosphere.

It is efficient and structured. A presentation is a great solution if you have a lot to say. Within the format of stories on Instagram, it is not possible to present a lot of information at the same time, and articles on the site are not able to hold the attention of the client for a long time. If the amount of material is large, well-arranged slides, clear text, and graphics will help to structure it.

Presentations are fast. In addition to the apparent efficiency in data systematization and visualization, this method is also relatively quick to perform. The scales of the slides and various graphic elements allow you to fit a lot of information into them. Also, during creation, you can use ready-made bundles, platforms with which it is easy to find on the Internet, for example, on

MasterBundles

. This method saves time and provides a cool result without extra effort.
The importance of presentations and their advantages over other methods of presenting information are clear. Let's take a closer look at the option of using a ready-made template. What is the advantage of this method?
Why You Should Use Templates When Creating Presentations:
Saving time. With a template, you don't have to spend time choosing the font and colors because it's already done for you.

A unique product. Many are convinced that templates are about uniformity and copying. However, most templates are easy to edit and change beyond recognition. You can check this by looking at the professional

Google Slides templates

. Add your logo, choose corporate colors and personalize all slides. In this way, the presentation will be not only professional but also unique.

Quality result. To get a beautiful, well-balanced presentation, a non-professional designer needs to spend a lot of effort. If you do it for the first time, you should not expect a high-level result. The template will handle the work of a graphic designer and provide a professional presentation.
Templates are of course good, but it is very easy to get lost in their number and variety. Only one of the platforms has more than 50 options in the business presentation category. Therefore, we have selected the best possible templates for your business presentations.
Best Templates In The Business Sphere 
STRATEGY – Google Slide Template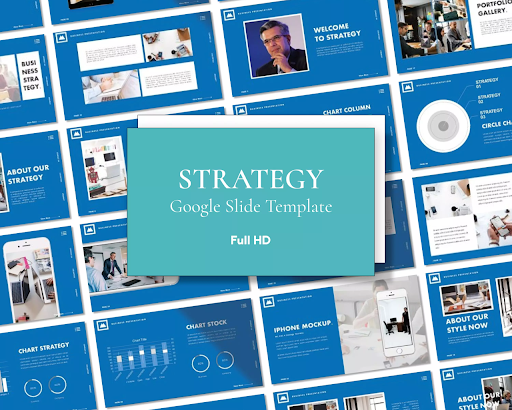 This template includes all the necessary elements for presenting and visualizing a business plan on any topic. Each slide is unique and has a modern design. There are two color palettes available, but all colors can easily be changed to anyone of your choice. Also, change fonts by choosing from 4 possible options. The graphic elements are vector, so it is easy to adjust them according to your wishes for shape and size.
Labffe – Coffee Shop Google Slides Theme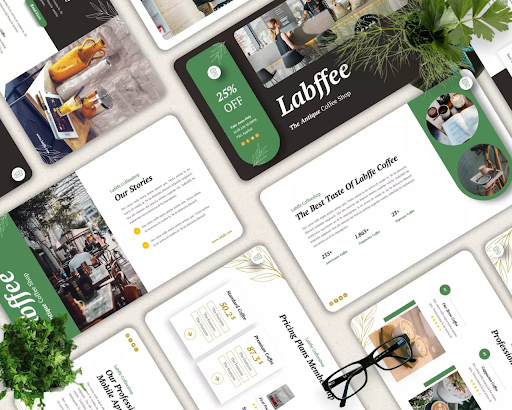 The 40 slides of this template are easy to apply in the restaurant industry. It surprises with its creative and modern design and a very pleasant price. The result is easy to personalize as all colors, fonts, and graphics are easily editable. With the purchase of the template, you get free support in case of questions and problems with use.
Orthobuild – Renovation Google Slides Template
This template can be used in various areas, for example, for the presentation of a new studio, or agency, or for creating a company profile. Most slides have plenty of room to add your photos. All 40 slides are supported in a 16:9 Widescreen Ratio. The set includes two files: Google slide.PPTX file and Documentation File.
Kayeon – Annual Report Google Slides
The template is created with attention to detail. It is not surprising, because it is a presentation for the annual report, which is an integral part of any company. The template is made in a pleasant and interesting color scheme. You will be able to edit each slide as you wish and choose among many free fonts the one that will suit your report.
Huge SWOT Presentation Bundle: 300 Slides PPTX, KEY, Google Slides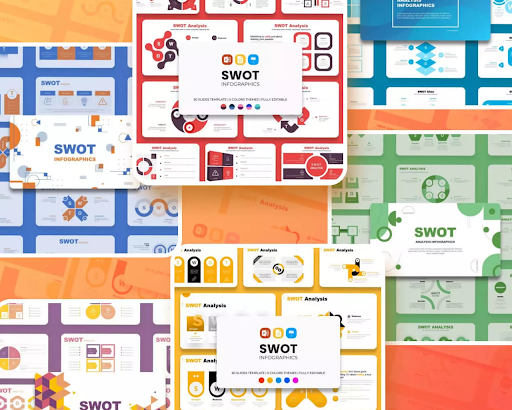 This is the largest set of slides in this list, which includes 6 thematic selections. In total, you will receive 300 unique slides with interesting graphic elements. Each template can be modified to suit your own needs. For example, all slides are available in 5 color schemes, three different formats, and various icons. Examples of their use are attached to each diagram and graph, which makes working with the slides much easier. This kit will satisfy your presentation needs for a long time.
Volqie – Fashion Google Slides Template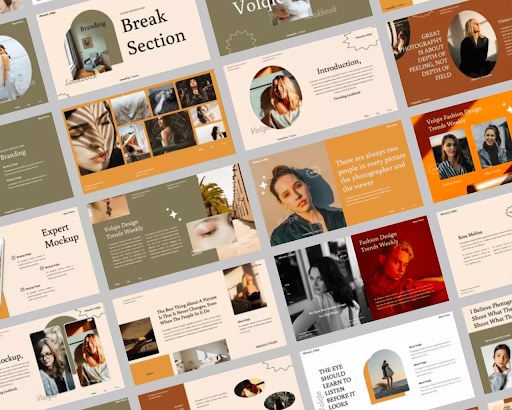 If your business is related to fashion and style, this template will be a very useful tool. You can choose between two interesting color themes and change and edit the graphic elements as you like. Another advantage of the template is the support of the 16:9 Widescreen Ratio. The slides are created by a professional designer, so they will be a stylish addition to your business in the fashion industry.
Conclusion
It is difficult to deny the importance of presentations in presenting oneself on the market. They have many advantages over other common customer interaction tools. When creating presentations, you should use all possible ways to make it easier for yourself to work with them, such as the services of a designer or ready-made templates. This will provide you and your business with an ideal and, most importantly, unique result.