Digital Marketing- An Ocean Of Opportunities. Because It is very vast concept for both businesses and costumer. Selecting it as a profession will not be the worst choice.
Everyone has few questions or remarks which we hear on a daily basis-
Is there a growth in Digital Marketing profession?

Are we late to start a profession in digital marketing?

What are the growth possibilities?

What areas can I get into?

I am not an engineer guy. Can I yet start a career in Digital Marketing?
Well my mates, my reply is
 –
'YES, GET INTO DIGITAL MARKETING. IT'S AN OCEAN AMPLE OF OPPORTUNITIES'.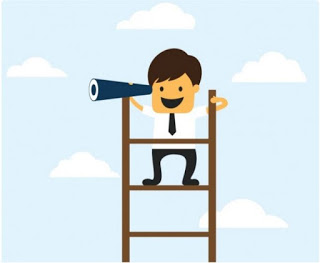 Every Company has numerous marketing queries daily, but they have to let them go as a lack of resources/workforce. There is a shortage of SEO analyst, Google analytics expert, social media managers, optimised content writers etc. It is situation where digital marketing opportunities arise.


And therefore, there prevails an opportunity for all those who are prepared or thinking to become a DIGITAL MARKETER.
Let us take you through the popular trends, opportunities, and prospect of digital marketing.
Modern Trends in Digital Marketing
As per the Cisco's Visual Networking Index (VNI) report, by 2021, 829 million Indians (59 per cent of the population) are supposed to use the internet daily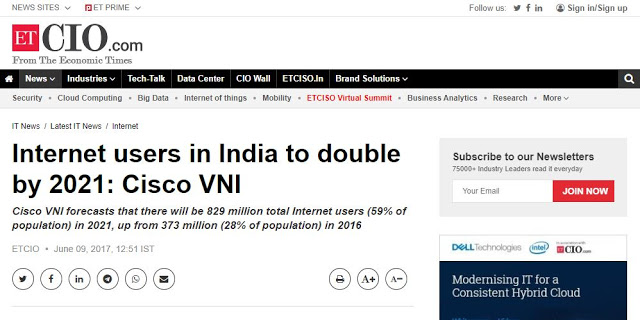 Out of above 829 million, 79% will use the internet by mobile moving behind countries like the US & UK
India advancing digital with 20 billion internet gadgets to be accessible by 2021 (Currently 1.4 Billion)
Monthly data consumption to raise nearly five times from 3.9 GB to 18 GB
90% of popular Indian companies give 15% of their yearly marketing funds on Social Media Marketing

Government firm National Optical Fiber Network (NOFN) is accomplishing towards implementing 100 MBPS broadband connectivity to all the gram panchayats
'Just Visualise the potential of Digital Marketing if we enter into untapped countryside markets'


And henceforth, Digital Marketing has become a necessity of the hour. It is the most straightforward, agile, and the most reliable way to reach quantities and qualities. It will soon become a need for any enterprise to sustain and grow in this DIGITAL ERA.
Digital Marketing- An Ocean Of Opportunities
Digital Marketing is an industry which as an entire is supposed to create 20 Lakh jobs by the year 2020

With the government promoting Indian startups more and more positions would be built for people in the field of Digital marketing

It presents numerous opportunities. If you like coding, you can go for web developing, or you love writing, you can become a content writer. The other popular verticals are – SEO Analyst, YouTuber, Social Media Manager, Affiliate Marketer etc
You can also work as a freelancer on a project base or become an entrepreneur
You can also start a career in Digital Marketing if you are proficient in some localised language as marketing in rural regions and by local languages is growing.
There is a tremendous demand-supply gap as more and more businesses are either outsourcing or establishing their digital marketing team.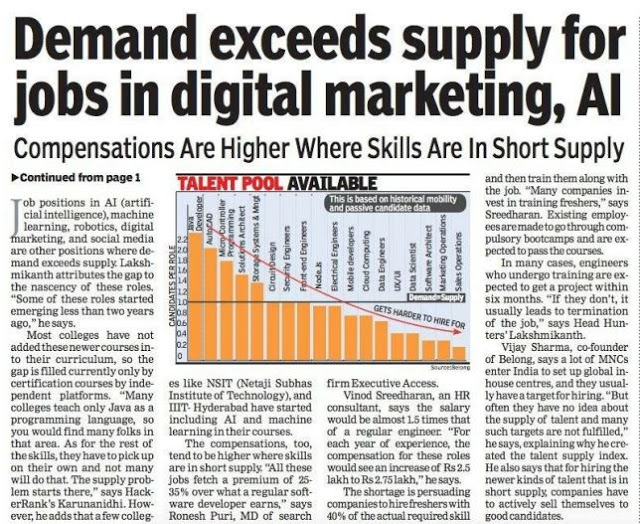 Growth in Digital Marketing
Internet traffic will rise at a yearly composite growth rate of 32%.

According to a report published in Economic Times – 'Online advertising market in India is increasing by 30% year on year.'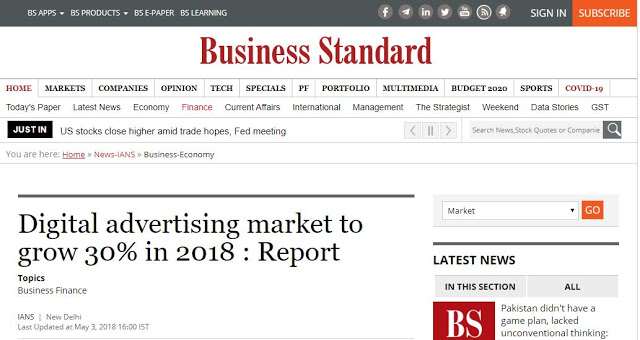 As per the Google and KPMG report (April 2017), titled 'Indian Languages Defining India's internet',

9 out of every ten distinct internet users in India

are expected to be localised language users over the next five years.

The regional Indian language user is expected to grow at 18% CAGR encountering around 500 million by 2020

The e-commerce business is overgrowing. With people adopting click over brick opportunities have grown drastically.

 

Owing to low-cost smartphone gadget and internet access, customer can join with business anytime and anyplace.
The Customer is King – Relation with your customer, or future customer has converted into a necessity. Digital Marketing Opportunities make it possible.
Read More: Areas of Digital Marketing Specialization
The increase in digital marketing recommends that the need for digital marketing professional would increase remarkably in the nearby future.
I think I have cleared the dilemmas of those who are intending, preparing or estimating a profession in Digital Marketing. I guarantee what I have said in beginning Digital Marketing- An Ocean Of Opportunities.
'DIVE IN THE DIGITAL MARKETING OCEAN AND THE WAVES OF DIGITAL MARKETING OPPORTUNITIES WOULD Support YOU SAIL INTO'
Thus, Now that you understand the value of digital marketing course, learn today and develop your own Company or get hired at the most trustworthy digital marketing company.