Digital Marketing
The Power of Influencer Marketing: How to Leverage It for Your Business
The power of influencer marketing in today's digital climate has become a force to be reckoned with. Social media transforms the way businesses connect with and engage their target audience, and influencers have emerged as key players in this new landscape/ Leveraging the influence and reach of these digital creators is a game-changer for businesses across almost every industry. If you're looking to leverage influencers into your business's social media strategy, keep reading on. 
What is influencer marketing?
Influencer marketing is a great way to bring traffic and engagement to your business's social media and digital accounts. This marketing tactic involves collaborating with popular creators on various digital platforms to produce content aligning with your existing and new audience members. These partnerships entail the creator you partner with to promote your products, services, or business as a whole. 
Selecting the right influencer to partner with is an integral part of the process, but once you've found the right fit, you also need to recruit influencers to work with you. By nurturing the relationship and providing a solid offer such as commission or up-front cost, and creating compelling content, you create a highly-effective campaign. 
Now that you know what influencer marketing is, let's discuss leveraging it for your business. 
Types of influencers
As the creator economy continues to boom, you can find a wide range of different creators with various audience sizes and niches, however not all will be the right fit for your business or budget. 
Mega influencers

are creators with millions of followers, like celebrities with large social media followings. These influencers will charge a pretty penny to collaborate. Additionally, these accounts are often victims of spam, which may lead them to your business, risking security. Without a solid API security system, these may not be worth the investment. 
Macro-influencers

have a following of over 500,000 and will also cost quite a bit. 
Mega-influencers

have between 50,000 to 500,000 followers/ 
Micro-influencers

will have anywhere between 10 to 50 thousand. Micro-influencers are a great choice for many businesses because of their lower cost and more engaged audience. Influencers with smaller followings tend to have more committed audience members who trust their opinion. By selecting an influencer with a following who aligns with your business, you increase the success of your influencer marketing campaign. 
How to leverage influencer marketing for your business
Define your goal
If you think influencer marketing sounds like the right strategy for your business, you need to start by defining the goal of your campaign. By defining the nature of your project, you will more successfully select the right creator to partner with. Typically, if you're considering influencer marketing, one of your main goals is to increase brand awareness and your business's following. Of course, sales is another goal with influencer marketing, but increasing brand awareness helps you get there. Additionally, the goal of your influencer campaign should align with your overall social media strategy. 
Find the right influencers
We mentioned how important it is to ensure you select the right influencer for your brand. Most importantly, you want the influencer you collaborate with to be relevant to the nature of your business. For example, if you're business sales sports equipment, partnering with a foodie influencer probably isn't the right fit. 
You also need to consider the creator's reach. While too big an audience may not bring relevant attention to your business, it also may lower the ROI of your project. On the other hand, too small of an audience may cost less, but won't assist in your goal of bringing in new potential customers. 
Nurture the relationship
With any business partnership, it's important to remain professional but also personal to and encourage the influencer to partner with you. Depending on your project's timeline, start by following and engaging with the creator's posts. Then you can slip into their DM's, but remember to be personal and appreciative! Avoid coming off too sales-like, and don't send out the same message to each influencer you plan on reaching out to. 
Once you've gotten some bites, talk about your business and the project you're hoping to work with them on. Ensure your proposed project aligns with the creator's content so they're interested in the project. 
Establish a partnership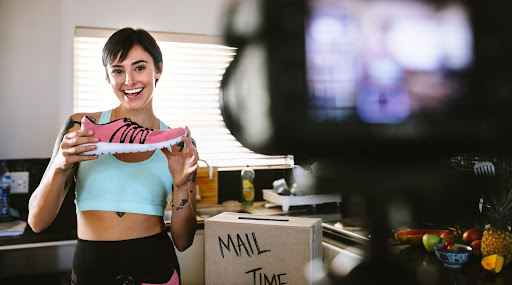 After nurturing the relationship, you need to establish partnership efforts between you and the influencer. Identify and share the goals and budget of your project, as well as align your audience with theirs, and agree with the details of the project. For a successful partnership, you need to create content that both your and the influencer's audience can resonate and engage with. Ensuring both parties agree to the terms outlined on the project prevents hiccups and disputes later down the road. 
Set expectations
After you've established your partnership and agreed to the terms, you need to set expectations for the project. Knowing the objective of your campaign assists in communicating expectations to both parties. Have the influencer you're working with sign a contract that sets expectations, such as payment terms, cancellation policies, and more, and provide them with the opportunity to give feedback and ask questions. Signing a contract that outlines the expectations of the project provides extra assurance that the process runs smoothly. After you've both signed the contract, you can disperse payment and get started on your project. 
Collaborate on content
Influencers are experts in creating engaging, popular content online, and they'll know what kind of posts generate the most traction from their audience. While your business has branding and marketing guidelines to abide by, this shouldn't prevent you from being open to your influencer's area of expertise. Being open to collaborating on the content you deliver drives better results for your influencer marketing campaign. Allowing them to showcase their skills in content creation, offers the best value for your project.
 So don't expect to micro-manage every aspect of the campaign. Instead, offer your influencer guidelines for what you want for the project, and allow them to do what they do best. 
Track your results
After launching your campaign, it's crucial to measure and track its success. Based on the terms of your project, you likely know what metrics to track and measure your return on investment. For example, if you utilize a unique discount code for your campaign, you likely will measure how many sales were generated using the code.

Whatever metrics from your campaign are most important to track, ensure you evaluate the data so you can more effectively plan your next influencer campaign. 
Influence with influencers
Influencer marketing is a dynamic and effective strategy allowing businesses to content with their audience and achieve remarkable results/ As consumers increasingly rely on social media to guide purchasing decisions, collaborating with influencers becomes your best opportunity to showcase your authenticity, and credibility, and improve engagement. By carefully selecting the right influencers and collaborating on content, your business can harness the power of influencer marketing to build brand awareness, drive sales, and foster customer loyalty.
Last Word
In summary, influencer marketing can be a valuable asset for businesses seeking to enhance their marketing efforts and connect with their target audience on a deeper level. By harnessing the power of influencer partnerships, businesses can leverage the credibility and reach of these online personalities to boost brand awareness, drive engagement, and ultimately achieve their marketing goals.