Business
How Much Is Canva Pro? Canva Pro Pricing Guide:
Welcome to our comprehensive Canva Pro Pricing Guide! Are you curious about how much is Canva Pro? Look no further as we dive into the world of Canva's premium subscription plan, exploring its pricing structure and value. Whether you're a creative professional, a small business owner, or an enthusiastic hobbyist, understanding the investment required for Canva Pro will empower you to make informed decisions. Join us as we demystify Canva Pro pricing and help you unlock new design possibilities!
What exactly is Canva?
Canva, the innovative design tool, revolutionizes how visual assets are created, even for those without graphic design expertise. With its extensive collection of pre-designed templates, graphics, images, and videos, Canva empowers users to craft a diverse range of magnetic marketing materials effortlessly. The possibilities are boundless, from engaging social media graphics to impactful videos, dynamic presentations, eye-catching posters and informative charts, and printed items. In recent years, Canva has garnered immense popularity among small businesses and solopreneurs, boasting 135 million monthly active users. With a staggering 15 billion designs already created using the platform and a dedicated team of 3,500 individuals, Canva has firmly established itself as a leader in the design space. As you explore Canva as a solution for your business's visual asset needs, you'll encounter various pricing plans, leaving you with the question of which fee structure best aligns with your requirements. Let's delve into the different pricing options to help you make an informed decision.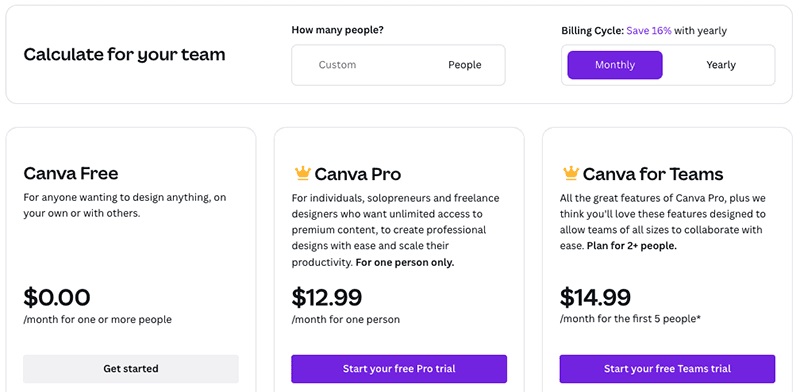 Canva pricing table
In this post, I'll provide you with a comprehensive breakdown of the various pricing plans offered by Canva and present the pros and cons of each option. Let's kick things off with a closer look at the free plan.
Canva Free — $0 per month
True to its name, the free plan offered by Canva comes with no cost attached. Despite being a free option, it remarkably delivers impressive results. With a free Canva account, you can create visually stunning designs with a professional aesthetic, whether for online use or printing. The versatility and quality of the designs achievable through the free plan are truly noteworthy.
Key features of the free Canva plan
The free plan gives you access to many key features that facilitate impressive design capabilities. These include:
A vast library of 250,000 customizable templates is at your disposal.

Over 100 design layouts tailored for various purposes, such as social media posts, presentations, letters, and more.

An extensive collection of over 1 million free photos and graphics to enhance your designs.

The collective power of adding team members and working together in real-time for seamless collaboration.

5GB of cloud storage to securely save and store your work.

The freedom to organize your projects in unlimited folders for effortless management.

The flexibility to export your creations into multiple file formats, ensuring compatibility and easy sharing.
With these robust features, the Canva free plan empowers entrepreneurs and new business owners with limited budgets to confidently embark on their design journey. It enables the creation of visually stunning and professional-looking visual assets without financial investment. Experience the transformative potential of Canva's free plan as you embark on your design ventures.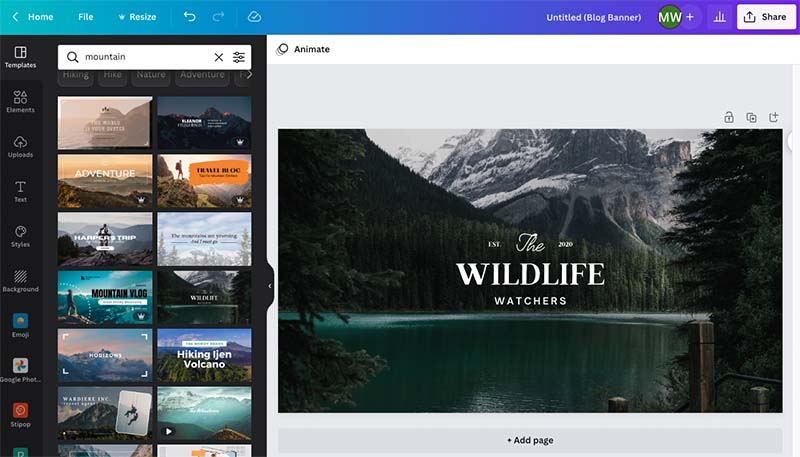 While the Canva Free plan offers an impressive range of assets and effortless creation of professional designs, it's important to consider that you may eventually require more advanced features as your business operations grow. In such cases, exploring the premium plans offered by Canva becomes essential. Let's dive into the first premium option: Canva Pro.
How much is Canva Pro?
Pricing — $12.99 per month or $119.99 per year
Canva Pro provides flexibility in payment options, allowing you to choose between a monthly or annual subscription. Select the payment frequency that aligns with your preferences and requirements.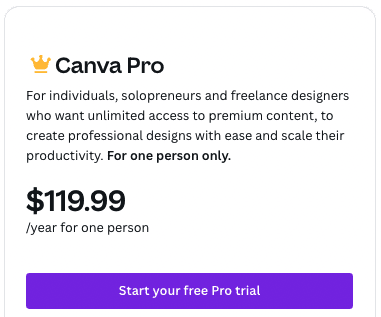 Paying annually for 'Canva Pro' gives you a $36 discount.
By opting for Canva Pro, you unlock various valuable features unavailable in the Canva Free plan. Here are the key features that make upgrading to Canva Pro worthwhile, listed in order of significance:
Unlimited Access to Premium Templates: Gain unrestricted access to an extensive library of premium templates curated to elevate your designs and make them stand out.
Resizing and Magic Resize: Effortlessly resize your designs to fit various platforms and formats, ensuring consistent visual branding across channels.
Brand Kit: Establish and maintain brand consistency by creating a Brand Kit that centralizes your brand assets, including logos, colors, and fonts, for easy access and application.
Background Remover: Seamlessly remove backgrounds from images with just a few clicks, allowing you to create captivating designs with transparent backgrounds.
Content Planner: Streamline your content creation process by planning and scheduling your social media posts in advance, saving time and ensuring a consistent online presence.
Custom Fonts: Expand your font options by uploading and utilizing your custom fonts, enhancing the uniqueness and personalization of your designs.
Advanced Collaboration: Collaborate efficiently with your team by assigning roles and permissions, providing feedback, and working on designs simultaneously in real time.
Unlimited Storage: Enjoy the freedom of unlimited storage space to store and organize your designs, ensuring easy access and retrieval whenever needed.
Priority Support: Receive priority assistance and support from the Canva team, ensuring your queries and concerns are addressed promptly.
Resizable Designs: Adjust the dimensions of your designs as needed, allowing you to explore different formats and optimize your visuals for various platforms.
With these powerful features, the Canva Pro plan offers enhanced creative possibilities, increased efficiency, and advanced collaboration capabilities, making it an excellent choice for individuals and businesses seeking to take their design game to the next level.
Premium stock photos, videos, and graphics
While the free version of Canva allows you to create visually appealing designs, it has limitations, particularly regarding the variety of stock images and graphics available. With Canva Pro, you can access an expansive collection of additional stock photos and graphics, exceeding a staggering 100 million. Moreover, Canva Pro goes beyond static visuals by providing access to an extensive audio and video library. This remarkable resource includes over 25,000 audio tracks and an impressive selection of 6 million video clips in 4K and HD formats. With Canva Pro, you can elevate your designs with captivating audio elements and enrich them with dynamic video content, unlocking a new level of creativity and engagement.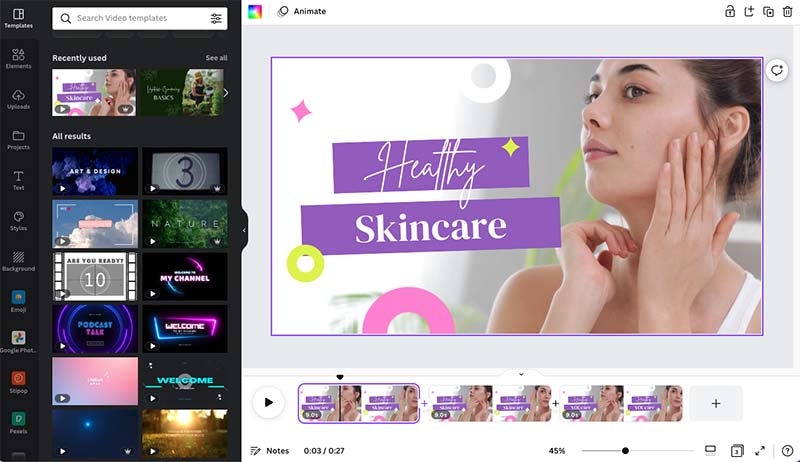 Creating video content in Canva
Including an extensive stock photo and video library in Canva Pro significantly expands creative possibilities. Considering the exorbitant prices some stock photo sites charge for a single image, Canva Pro offers exceptional value for money. Even if you solely utilize Canva as a source for stock photos and videos without exploring its design tools, you'll be astounded by the incredible value it provides. With access to an extensive collection of visuals, Canva Pro empowers you to elevate your projects without breaking the bank. It's a cost-effective solution ensuring you get abundant resources for every dollar spent.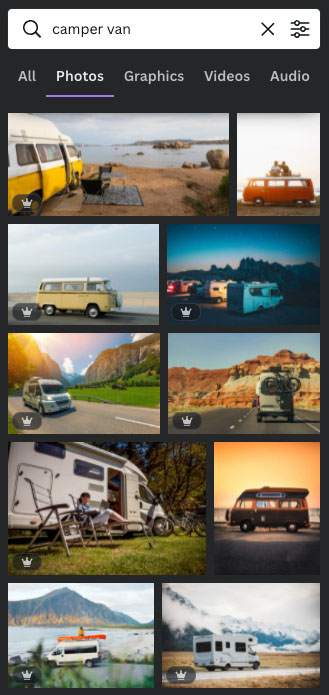 Even if you solely utilize Canva as a platform for sourcing royalty-free images from its extensive stock photo library, it still offers tremendous value for money. The ability to search and access a wide range of high-quality images without additional licensing fees or restrictions makes Canva an exceptional resource. Regarding cost-effectiveness, Canva surpasses expectations, providing an affordable solution for acquiring visually compelling images for various projects. Whether you're a business owner, content creator, or designer, Canva's value extends beyond its design tools, making it an excellent choice for those seeking an economical and reliable source of royalty-free images.
More templates
While the Canva Free plan provides a substantial collection of templates, granting access to over 250,000 designs, the Canva Pro plan takes it further. With Canva Pro, you can access an extensive library of over 610,000 templates. This remarkable expansion offers many options and variations, enabling you to find the perfect template for any project or design need. The increased selection of templates in Canva Pro ensures that you have a broader range of creative possibilities at your fingertips, allowing you to bring your visions to life with even more precision and flair.
Brand kits
One of the standout features of the Canva Pro plan is the powerful "Brand Kits" tool. With Brand Kits, you can upload your logo, incorporate your preferred fonts, and define a custom palette that reflects your brand's colors. This comprehensive tool allows you to establish and maintain a consistent brand identity across all your designs effortlessly. By utilizing Brand Kits, you can ensure that every visual asset you create with Canva Pro embodies the essence of your brand, reinforcing recognition and leaving a lasting impression on your audience. Harness the potential of Brand Kits to elevate your brand's presence and easily establish a cohesive visual identity.
With the Canva Pro plan, you can create multiple brand kits, allowing you to maintain the visual identity of multiple brands or projects easily. This flexibility enables you to seamlessly switch between different brand kits, ensuring that every design you produce in Canva remains true to the unique visual identity of each brand. Whether you are managing multiple businesses, clients, or personal projects, the ability to create up to 100 brand kits on Canva Pro empowers you to uphold consistency and cohesiveness across all your creative endeavors effortlessly. Experience the convenience and versatility of managing multiple brand identities effortlessly with Canva Pro's unique feature set.
The Magic Resize tool
A handy feature of Canva Pro is its "Magic Resize" tool, which simplifies repurposing existing designs for various platforms. With a few clicks, you can effortlessly resize your designs to fit different dimensions, saving you valuable time and effort. Whether you need to adapt your design for social media posts, presentations, or any other platform, the Magic Resize tool streamlines the entire process, ensuring your visuals look polished and professional across different mediums. Embrace the convenience and efficiency of the Magic Resize tool on Canva Pro, allowing you to maximize the reach and impact of your designs with minimal hassle.
With Canva Pro's Magic Resize tool, adapting your designs to various social media channels becomes effortless. Open an existing design and utilize the Magic Resize feature to automatically reformat it according to the specific requirements of different social media platforms. Whether you need to optimize your design for Facebook, Instagram, Twitter, or any other channel, the Magic Resize tool intelligently adjusts the dimensions and layout, ensuring your visuals appear seamless and engaging on each platform. Simplify your social media design workflow and create impactful content tailored for every channel with the remarkable Magic Resize tool available on Canva Pro.
In simpler terms, with Canva Pro's Magic Resize tool, transforming a blog post banner into a Facebook post image or a YouTube video thumbnail is as easy as clicking a button. You can effortlessly convert and output your design across multiple formats. This powerful feature streamlines the process, saving you time and effort while ensuring your visuals are optimized for various platforms. To witness how this practical tool works in action, take a moment to watch the informative video below. Discover the convenience and versatility of Canva Pro's Magic Resize tool and unlock a world of design possibilities.
More access to the Magic Write tool
Within the Canva Pro plan, you can access Canva's remarkable "Magic Write" tool. Powered by AI, this text generator automatically generates textual content for your designs and documents. By providing a prompt for the desired type of content, you can let Magic Write create the copy for you. It operates on a Chat-GPT framework, akin to the widely discussed AI chatbot, offering a simplified version tailored to the context of Canva's Magic Write. This intelligent tool assists you in crafting compelling and engaging text, expediting your design process and reducing the time spent on content creation. Harness the power of Canva's Magic Write to effortlessly generate copy that aligns perfectly with your design vision and communication goals.
Magic Write can generate text across Canva document types, including presentations, videos, documents, posters, and social media designs. While free plan users have limited access to this feature, with a cap of 25 uses, Canva Pro subscribers enjoy full and unrestricted utilization of Magic Write. Subscribers can enjoy a special allowance of 250 monthly prompts, enabling them to generate creative and personalized textual content for their designs. This generous provision empowers Canva Pro users to fully harness the capabilities of Magic Write and unlock the potential of AI-generated text across various document types, enhancing their efficiency and creativity in content creation.
Background Remover
With the Canva Pro plan, you gain exclusive access to a powerful background removal tool. This tool simplifies removing the background from a headshot, allowing you to replace it with any backdrop of your choice effortlessly. Whether you want to create a professional profile picture or add a touch of creativity to your designs, the background removal tool enables you to achieve seamless and eye-catching visual compositions. Enjoy the freedom and versatility of customizing your headshots with beautiful backgrounds, elevating your designs' overall aesthetic and impact. Unleash your creativity with Canva Pro's background removal tool and unlock endless possibilities for personalized and striking visuals.
If you're a YouTube creator, you'll discover this feature to be exceptionally useful in crafting attention-grabbing video thumbnails. With the background removal tool available on Canva Pro, you can easily create bold and striking thumbnails that capture the essence of your content. Imagine yourself with a shocked expression, perfectly aligned with the intriguing nature of your videos, while having the freedom to set the backdrop that complements your content. This tool empowers you to create visually captivating thumbnails that pique curiosity and entice viewers to click and watch. Elevate your YouTube presence and make a lasting impression with Canva Pro's background removal tool, giving your thumbnails a professional and attention-grabbing edge.
Transparent background downloads
Another valuable feature available on Canva Pro is downloading your designs with a transparent background. This option allows you to save your designs in a format that preserves the transparency of the background, enabling seamless integration into various projects and mediums. Whether you're working on graphic design, web development, or any other creative endeavor, the transparent background download feature ensures that your designs blend effortlessly with the desired context. Enhance the versatility and adaptability of your designs by utilizing Canva Pro's transparent background download, adding a professional touch to your visuals and expanding their potential for application and customization.
This feature becomes exceptionally valuable when designing logos you intend to superimpose on various assets. With Canva Pro's transparent background option, your logo designs can seamlessly and effortlessly apply to different elements. The transparent background ensures that your logo blends harmoniously with its surroundings, maintaining a clean and professional appearance. Whether you're placing your logo on product packaging, website headers, or marketing materials, the transparent background download capability empowers you to achieve precise and accurate integration. Elevate the impact and versatility of your logo designs with Canva Pro's transparent background option, allowing you to create visually stunning and cohesive branding assets across a wide range of mediums and applications.
Custom template design
While the free version of Canva restricts you to pre-designed templates, Canva Pro allows you to create custom templates. This exciting feature allows you to design personalized and on-brand templates that reflect your team or organization's unique style and requirements. By establishing standardized templates, you can ensure consistency and cohesiveness in your team's designs, fostering a professional and unified visual identity. Empower your team members with the ability to create stunning designs while adhering to your brand guidelines. With Canva Pro's custom template creation, you take control of your design process and streamline collaboration, resulting in impactful and consistent visual communication across all your team's endeavors.
Storage and folders
The free version of Canva provides 5GB of storage, which can quickly be consumed by large multimedia files added to the platform. However, Canva Pro offers a significant upgrade in storage capacity, granting users 200 times more space with a generous limit of 1TB. This storage limit should suffice for most users' design assets and projects. The expanded storage capacity allows you to comfortably store and organize a vast range of multimedia files, ensuring easy access and efficient management. While exceptionally heavy video editors may require more extensive storage options, Canva Pro's 1TB limit caters to the needs of most users, providing ample space to unleash your creativity without worrying about storage constraints.
Customer support
For users of the free Canva plan, support is available through the Canva help center and via email. The Canva help center is valuable, offering knowledge and guidance to address common queries and concerns.
Users can also email the Canva support team to seek personalized assistance and resolve any issues. While the free plan provides access to these support channels, Canva Pro subscribers enjoy additional benefits, including priority support, ensuring prompt and dedicated assistance for their design needs. Whether on the free plan or as a Canva Pro subscriber, support is readily available to help you maximize your Canva experience.
On the free Canva plan, the turnaround time for email support queries can be lengthy, with a waiting period of up to 7 days for a reply to your help ticket. However, with Canva Pro, you experience quicker response times for email support, with an expected reply within 24 hours. This expedited support ensures you receive timely assistance, allowing you to proceed with your design projects without unnecessary delays. If you're considering upgrading to Canva Pro, now is the perfect time to take advantage of the 30-day free trial offer. Sign up for the trial to explore the enhanced features and support that Canva Pro provides, empowering you to unleash your creativity and achieve remarkable design outcomes. Click here for the 30-day free trial and embark on an exciting design journey with Canva Pro.  
Also read: How to Create a Professional Poster as a First Timer
Canva Pro pricing for Teams
While the 'Canva Pro plan is an excellent fit for solopreneurs, larger companies often have other user access and brand control needs. This is where 'Canva for Teams,' the enterprise-grade version of Canva, steps in to cater to these requirements.
"Canva for Teams" offers an all-inclusive solution that makes it simple for teams to connect while paying greater attention to branding consistency. Businesses can provide access to multiple users with this specific strategy, encouraging effective teamwork.
Moreover, 'Canva for Teams empowers organizations to establish and enforce brand guidelines more rigorously, allowing centralized control over templates, brand assets, and design elements. By leveraging Canva for Teams, enterprises can enhance their design workflows, streamline brand management, and achieve cohesive visual identities across all their projects and teams.
Unlike the fixed pricing of 'Canva Free' or 'Canva Pro,' 'Canva for Teams adopts a variable pricing structure based on the number of "seats" in your account. The pricing scales up as you add more users to your team. To provide you with an overview, here is a table showcasing the expected pricing for 5, 10, 20, 50, or 100 users in your team:
| | |
| --- | --- |
| Number of Users | Estimated Price |
| 5 | $12.95/user/month |
| 10 | $11.95/user/month |
| 20 | $10.95/user/month |
| 50 | $9.95/user/month |
| 100 | $8.95/user/month |
Please note that these prices are subject to change and may vary based on current offerings 
and promotions. It is advised to check the Canva for Teams pricing page or contact the Canva sales team directly to get precise and up-to-date pricing information for your specific team size and requirements. 'Canva for Teams' ensures you have a scalable and affordable solution for your team's design and collaboration needs by adjusting the pricing based on the number of users.
Workflow management
If you require a managed approvals process for your designs, the workflow management features of the 'Canva for Teams plan are specifically designed to cater to this need. These robust collaboration tools offer enhanced control over your team's access to Canva, empowering you to streamline and optimize the design approval process. With the workflow management features, you can assign designated "approvers" to projects, granting them access to review, provide valuable feedback, and ultimately approve designs created by your team members. This systematic approach ensures a seamless and efficient workflow, allowing for improved collaboration, timely feedback, and a streamlined approval process. By leveraging Canva for Teams workflow management features, you can establish a structured design process, enhance communication within your team, and maintain high quality and consistency across all your design projects.
Template locking
With the 'Canva for Teams plan, you can exert greater control over your templates, allowing you to maintain a tighter grip on the visual consistency of your assets and prevent any deviations from your established brand guidelines. This feature becomes particularly valuable when your team needs dedicated graphic designers to oversee the app's usage. By locking down your templates, you can ensure that all designs created by your team align with your standard brand guidelines, avoiding any accidental drift and maintaining a cohesive visual identity. This level of control empowers you to safeguard the integrity of your brand and maintain a professional and consistent appearance across all your marketing materials. With 'Canva for Teams,' you can have peace of mind knowing that your team can create on-brand designs without compromising your brand's visual integrity.
More brand features
While 'Canva Pro limits you to creating 100 brand kits, 'Canva for Teams' expands this capability to up to 300 brand kits. In addition to the increased brand kits, the 'Brand' section in 'Canva for Teams' offers two exclusive features not available in the 'Canva Pro' plan. The first is the 'brand templates' section, which enables you to create and store reusable branded templates. This feature streamlines your workflow by providing easy access to standardized templates, ensuring consistency across your team's designs. The second feature is the 'brand controls' section, allowing you to restrict your team members' use of colors or fonts that do not adhere to your brand guidelines. This feature is particularly beneficial for agencies handling numerous clients by enforcing brand consistency, as it helps maintain a unified visual identity across all projects. With the expanded brand features in 'Canva for Teams,' agencies and teams working with many clients can efficiently manage their brand assets and uphold consistent branding standards.
Storage
While the 'Free' and 'Pro' plans have storage limitations of 5GB and 1TB, respectively, the 'Canva for Teams' plan offers a more scalable solution for companies dealing with large multimedia files. With the 'Canva for Teams' plan, each member of your team receives 1TB of storage space. This allocation ensures that companies with important big multimedia files, such as videos and audio, have ample storage capacity for their creative assets. The increased storage capacity in the 'Canva for Teams plan supports efficient collaboration and seamless handling of multimedia content, making it a suitable choice for businesses that require extensive storage capabilities.
Single sign-on (SSO) integration
With the 'Canva for Teams' plan, you have the added convenience of integrating Canva with Single Sign-On (SSO) authentication. SSO enables users to utilize a single set of login credentials to access multiple applications, simplifying the management of usernames and passwords. By including Canva in the apps you use SSO for, you can streamline the authentication process and enhance security measures within your team. This seamless integration allows team members to access Canva using their existing SSO credentials, ensuring a smoother user experience and eliminating the need for separate login credentials. Embracing SSO with Canva for Teams promotes efficient workflow management and enhances the overall usability of the platform.
Quicker customer support.
There is a notable distinction between the support turnaround times offered in 'Canva for Teams' and 'Canva Pro.' With the 'Canva for Teams' plan, you benefit from 'priority' support, ensuring your queries are addressed within approximately 2 hours. On the other hand, with 'Canva Pro,' the response time for support inquiries may extend up to 24 hours. This expedited support service provided with 'Canva for Teams underscores the emphasis on prompt assistance and efficient problem-solving for teams using the platform.
Canva for educational and not-for-profit organizations — what are the costs?
Besides catering to businesses, Canva offers specialized plans for the education and charity sectors. One such plan is 'Canva for Education,' free for K-12 teachers and students. The term "K-12" refers to the educational levels in the United States, encompassing Kindergarten through 12th grade. Notably, Canva provides over 75,000 templates specifically designed to meet the needs of educational purposes, further enhancing the platform's value for educators and students.
'Canva for Nonprofits' is a specialized version of the platform that offers free access to individuals and organizations working in the charity sector. Depending on the type of organization, it can be used by up to 50 people. An application process is in place to access Canva for Nonprofits, where Canva's team confirms the applicant's eligibility. This guarantees that the plan is only made available to legitimately qualified individuals who can take advantage of the tools and capabilities Canva provides to support their charitable endeavors.
Canva has introduced a new plan specifically tailored for universities and higher education institutions called 'Canva for Campus.' Unlike the free offerings such as 'Canva for Education' and 'Canva for Nonprofits,' 'Canva for Campus' requires institutions to pay for staff team accounts. These staff subscriptions, priced similarly to the 'Canva for Teams' plan, enable institutions to provide free access to Canva for their students. This model allows universities and higher education institutions to leverage the design capabilities of Canva while managing access and usage within their campus environment.
So which version of the Canva app is right for me?
Hopefully, this Canva pricing guide has helped you identify the key differences between the various plans on offer and helped you understand whether or not a free or paid-for plan is best for you. But to sum up, here's my take on which plan is most appropriate for different user types.
Conclusion
In conclusion, Canva Pro offers a range of premium features and enhanced capabilities that can elevate your design experience. With access to a vast library of stock images, videos, and audio files, the ability to create and customize brand kits, advanced design tools like Magic Resize and Magic Write, and increased storage and support options, Canva Pro provides excellent value for individuals, businesses, and teams. The pricing for Canva Pro starts at $12.99 per month, with additional savings available on the annual plan. Whether you're a professional designer, marketer, educator, or simply someone looking to create stunning visuals, Canva Pro offers comprehensive tools and resources to bring your ideas to life.
FAQ
Can I use Canva for free?
Yes, a limited version of Canva can be used for free indefinitely. Students and not-for-profit organizations can access free plans if they meet certain criteria. For those who want to experience the full range of features, a 30-day free trial of the 'Pro' version is also available.
Is paying for Canva worth it?
While the free version of Canva offers a range of design tools, upgrading to a paid plan unlocks additional features that allow for more advanced and professional visual creations. The premium plans offer a substantial library of free stock images, videos, and audio files, expanding your creative possibilities. Enhanced export options provide greater flexibility in saving and sharing your designs. The brand kit features allow you to maintain a consistent visual identity with custom logos, fonts, and color palettes. The background removal tools make it easier to create visually appealing compositions. These factors make upgrading to a premium plan compelling for those seeking more sophisticated design capabilities.
How much does Canva cost each month?
The pricing for Canva Pro is $12.99 per month when billed monthly. If you choose to pay annually, the cost is $119.99 per year, saving you around $36 compared to the monthly billing option. On the other hand, Canva for Teams offers a variable pricing structure based on the number of users in your team. The pricing starts at $14.99 monthly for 5 users, increasing as you add more users to your account. The exact pricing for Canva for Teams will depend on the specific number of users you need to access the platform.