Digital Marketing
Making SMS Marketing Work for Your Business (30 Creative SMSes from 15 Niches)
An estimated 7.26 billion mobile users exist worldwide. 
Imagine the leverage your business could gain by being able to target them with close to 100% delivery and 98% open rates.
Yes, we're talking SMS marketing campaigns which are capable of getting your prospects to respond almost 4.5 times faster than through email marketing, helping you blast through rife competition and multiplying sales.
But, like all things marketing, they're both right and not-so-bright ways to go about your text marketing campaigns.
This blog post will tell you everything you need to know, including tips, tricks, tactics, strategies, and examples, to build winning SMS marketing campaigns for your business from scratch.
Why Choose SMS Marketing?
First, a few data-backed reasons should make it abundantly clear why SMS marketing is here to stay for a while.
Over 98% of SMS messages are opened and read.

SMS reply rates are 209% higher than phone, email, or Facebook replies.

82% of people say they open all SMS messages from businesses. The click-through rate for those SMS is 36%.
Here are the top business benefits that should make your decision to include SMS marketing strategies as part of your overall marketing approach easier:
High open & read rates.

Text messages have among the highest open and read rates across marketing channels.

Instant & deep reach.

Barring the occasional service provider delay, SMS messages have high deliverability and get delivered instantly and to almost 100% of your subscribers every single time.

Higher conversion rates.

SMS messages tend to have higher conversion rates that, in turn, lead to increased sales and enhanced revenue.

Personal & direct media.

SMS is considered personal space, and you have your prospects' undivided attention when they read your SMS message.

Low-tech. Your target audience doesn't even need a smartphone, much less the internet, for your text message marketing campaigns to be successful.
Cost-effectiveness.

SMS campaigns are extremely affordable when strategically executed, making them a must-have part of the marketing arsenal of even smaller businesses.

Permission-based media

. SMS campaigns are extremely compliant as they work with explicitly opted-in audiences only, which leads to higher engagement rates.

Measurability

. SMS marketing campaigns can be tracked and measured for various data points, leading to more scientific, data-backed decisions.

Integral nature

. SMS campaigns will integrate with and add value to your existing marketing tactics and strategies.
Whether you want to unleash a time-sensitive promotion or gun for maximum attendance for your upcoming webinar event, SMS marketing has all the answers.
The 7 Elements of Highly Effective SMS Campaigns
All successful business text campaign has the following key components, the correct optimization of which can make your SMS marketing campaigns even more successful.
Campaign name

Sender name or number;

SMS message copy

Shortened URL

Opt-out instructions

Segmentation

Test SMS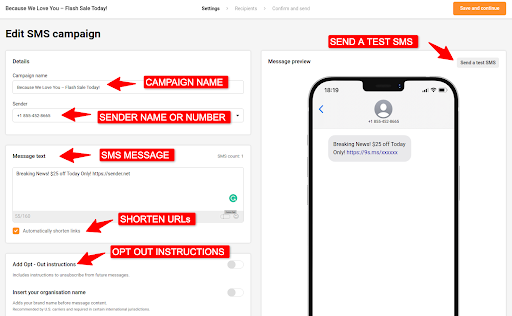 Image Source: Sender.net
Let's go over these key elements one by one.
Campaign Name:

This is the nomenclature you give your campaigns to contextualize them. While generally used for internal references, self-checks, and testing, campaign names are also useful for client and stakeholder communications;

Sender name or number:

This is the brand keyword or phone number you choose to be identifiable to the recipient. Keeping this meaningful and consistent is key to not only maintaining brand consistency but also gaining trust over time;

SMS message copy:

Given that texts are typically 160 characters or less, your message needs to be specific and concise. Keep it persuasive by including one key benefit that will cause the recipient to click the link to follow;

Shortened URL:

Often, URLs can get long and messy, and this gets them to eat up your already-limited messaging characters. Use a link-shortening service to make them short and perky. If using an SMS marketing software like Sender to manage your SMS marketing campaigns, this feature is built-in and can be enabled by clicking a simple tick box;

Opt-out instructions:

As part of TCPA compliance, you can not only send SMS messages to opted-in subscribers alone, but you must also include a link or keyword that allows subscribers to unsubscribe at any time;

Segmentation:

SMS marketing campaigns work best when targeting specific audiences with relevant. unique and tailored messaging based on demographics, interests, past purchases, or engagement metrics;

Test SMS:

Before going live with any campaign, it is always a good idea to test your final SMS draft for formatting, appearance, call-to-action links, etc., by sending it to a private test number.
Next, let's look at some great examples of SMS marketing done right.
SMS Marketing Examples
Here are some examples of SMS messaging to help inspire your next SMS campaign:
Offline Retail or Online E-commerce
Flash Sale Alert: Get 50% off on all summer clothing. Limited stock. Shop now at [website].
Exclusive VIP Offer: Enjoy 20% off your next purchase. Use code VIP20 at checkout. Valid for the next 30 days. Visit [website] now.
Food & Beverage:
[First Name], hungry much? Mouthwatering burger combo for just $9.99 today. Order now at [phone number] or visit us at [location].
[First Name], you are special! Treat yourself to a free dessert on your next dine-in visit. Show this message to avail. Only at [restaurant name].
Fitness & Wellness:
Welcome Summer with a Fitter YOU. Enjoy 15% OFF on our annual membership fees. Call [phone number] or visit [website] for this special offer.
Limited-time offer: Book your massage appointment and receive a complimentary aromatherapy upgrade. Call [phone number] to book your session now.
Automotive:
Going on a trip? You need a quick tune-up. Get 20% off on our maintenance packages. Book now at [phone number].
[First name], you deserve a better ride! Trade in your old car and receive up to $2,500 off in exchange benefits. Visit your nearest [Car Dealership Name].
Travel & Hospitality
Your sunny dream vacations are now only a click away. Enjoy 30% off on beach resorts. Limited availability. Book now at [website].
Plan your weekend getaway now. Stay 2 nights and get the 3rd night free. Only at [Hotel/ Resort Name]. Call [Phone number] to reserve your stay.
Beauty & Cosmetics
Time to pamper the special you [First name]. All deluxe spa packages are now at 10% off. Book your session now by calling [phone number].
Here's an excuse for a makeover—FLAT 15% OFF. 1st 100 visitors also get FREE consultation sessions with beauty experts. Visit [Cosmetic store name] now.
Technology & Electronics
It's raining discounts on gadgets. Save big on the latest smartphones, tablets, and more. Shop now at [website].
Your family deserves a home theater upgrade. And we can give it to you for 25% less. Visit [Electronics store name] today.
Home Decor & Furniture
Spruce up your living spaces. Get flat 20% off all home decor items this weekend. Shop now at [website].
Getting cozy doesn't have to come at a price—our stylish sofa range is now 50% OFF. Visit [Furniture store name] to avail the offer before your neighbors do.
Healthcare & Medical
No reason to fear the flu anymore. Get a free flu shot at [Medical clinic name] today. Walk-ins welcome.
Free teeth cleaning and whitening sessions for the first 20 appointments only. 
Call [Dentist's office] to register today.
Entertainment & Events:
Don't miss out on the concert of the year. Buy your tickets now and get 10% off. Visit [ticketing website] or call [phone number].
[First name], ready for a night filled with laughter? Enjoy 20% off on stand-up comedy show tickets this weekend. Book now at [website] or visit [venue].
Real Estate:
Your dream home, now made real. Join our exclusive open house event this Sat. First 50 registrations only. RSVP at [phone number] to book yours.
Become a real-estate tycoon. Attend our FREE property investment seminar to learn from industry experts. Limited seats. Register at [website] now.
Financial Services
Secure your financial future with FREE expert guidance from our wealth management experts. Call [phone number] to schedule an appointment.
You open an account, we put in the money. Open a new savings account with us and receive up to $50 in bonus. Visit [bank name & branch] today.
Education
Uncover your child's talent through our kids special summer coding camp. Ages 8-14 only. Limited spots. Visit [website link] for more details.
Make this summer a skill-filled one for your little one. Enjoy up to 20% off on all our online courses. Use code LEARN20 at checkout. Visit [website].
Nonprofit Organizations
You can make a difference with a click. Donate and support those in need. Visit [website] to choose your cause.
Looking to leave behind a legacy that goes beyond money? Volunteer with [Nonprofit org name] and help us create a deeper impact that changes lives. Call [phone number] to know more.
Pet Supplies
Your furry friend deserves the very best. Premium pet supplies at 25% off. Till stocks last. Shop online at [website] and use code PET25 at checkout.
Get a free grooming session with every pet food purchase of over $30. Call [pet store phone number] for details.
While we may have missed out on covering your specific niche or industry in the SMS marketing examples above, we hope the others were enough to inspire your next creative streak.
Get Started with SMS Marketing Now
Whether you're looking to distribute content, promote a new drop for your clothing line, try something new for a dropshipping store or send promotional SMS messages, SMS marketing is too good of an opportunity to miss being a part of. Get started with targeting both prospects and customers over business text messaging before your competition beats you to it.
Also, when starting out, it helps to keep your SMS marketing strategy simple. This also means worrying less about which of the available SMS marketing platforms to choose or which of the top SMS marketing best practices you might have missed out on implementing.
Remember that, regardless of the exact SMS marketing program in use, every SMS is a direct and personal conversation between your business and an individual. Therefore, as much as you feel it is important to align your SMS marketing messages with your brand's tone and campaign objectives, it is possibly more crucial to tailor it to meet your target audience's expectations in terms of relevance and customer experience.