Social Media
5 Crucial Social Media Metrics and How to Improve Them
Browsing sites is a daily routine for many of us. What's the first thing we see in the morning or the last one when we go to sleep? Right, our mobile phones.
We check our messages, scroll down the feed, or compare prices and reviews. Unsurprisingly, organizations engage the audience in the virtual space.
What is the main benefit of online shopping? Speed of purchase. The Internet allows us to get information and buy goods on the go. That's why you need to keep your site load speed high. No matter what platform you use, optimizing Magento performance or any other solution will improve your SEO and take your bounce rate under control.
Social media aren't just entertainment venues anymore either. They are a powerful tool for business growth, from forming and improving the image to increasing sales. Social media metrics show how effective your work is. In this article, we'll look at different social media metrics and how to improve them.
Why You Need to Measure Social Media Metrics
The success of social networks doesn't depend only on the number of followers or likes. Social media are constantly releasing updates to improve the quality of interaction with the audience and the value of the content that users will want to share.
Metrics for evaluating performance are highly diverse. How can you get all the information about your channels? Social networks provide detailed reports with statistics. So, account holders can analyze them and monitor their development as they work in this direction.
For example, a digital marketer needs to monitor conversions and engagement rates. ROI (return on investment) or ROMI (return on marketing investment) metrics have more value for the business owner.
Social Media Metrics You Should Track
1. The Number of Followers
It's one of the fundamental social media metrics in SMM. Marketers constantly use it in reports and delivered KPIs. It also becomes a decisive factor when choosing an influencer to collaborate on social media. There is a simple principle: the more subscribers an account has, the more people will see the content and take the targeted action.
However, the number of subscribers can artificially grow due to bots. But you can easily verify such techniques. Artificial subscribers won't increase sales and may even harm conversions. That's why marketers pay attention to engagement rates rather than relying on just the number of followers.
The best traffic is organic. An organic audience indicates that the brand shares useful and quality content.
How do you check the source of new subscribers? For example, Facebook allows marketers to count new subscribers who came to the page organically. Not via ads but through search, guest posts, and recommendations. You need to open statistics, next the "Subscribers" tab, and then "Organic subscribers".
2. Reach
This element of social media metrics shows how many people have seen your content at least once. It can be an ad, profile, or post. You can track your reach for a particular time or specific posts to measure their success.
Reach takes into account unique users. For example, if one user has seen your post several times, then it will be +1 to your reach.
There are three main types of reach:
Organic reach: It reveals how many subscribers have seen your content. It depends on their number and posting frequency.
Paid reach: It's the number of impressions received through advertising.
Viral reach: It stems from impressions from reposts. It illustrates how many unsubscribed people saw the publication. If you share good content, people will spread it themselves.
3. Share of Voice
Share of voice compares how many times users mention your brand as opposed to your competitors. References can be direct and indirect. What does SSoV mean for your social media campaign?
It's one of the social media metrics allowing you to analyze your position relative to your competitors. Let's say your rivals' SSoV is higher. Then, you can leverage your strategies, collaborate with bloggers, or launch a contest to raise your brand's awareness.
How Do You Measure SSoV?
You need to count the number of mentions (total) and the same indicator for your brand for a certain period.
Divide the number of mentions of your brand by the total.
Multiply by 100 to obtain the coefficient as a percentage.
Use analytics tools such as Hootsuite Analytics to simplify the task.
4. Engagement Rate : How Many Likes and Comments You Receive
The engagement metric helps measure the effectiveness of marketing campaigns. A large number of subscribers is worth nothing if users ignore your content. This part of social media metrics shows how many reactions, comments, and reposts your publication receives.
There are several formulas for calculating ER. One of the most popular is the ratio of interactions and activities to the total number of subscribers.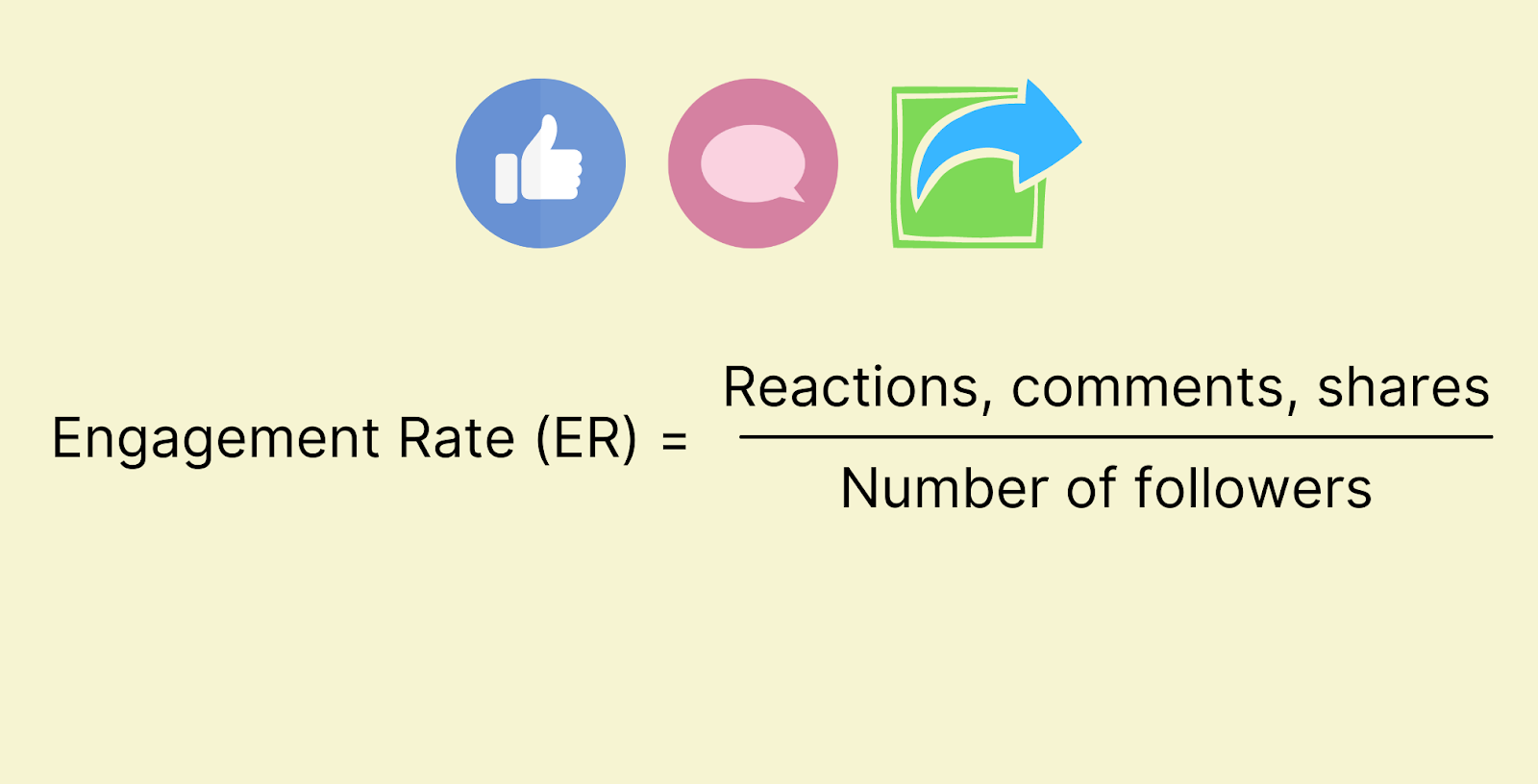 It decreases when the account grows. For example, it's hard to reach 10% of ER for a 100 thousand follower account. And when the page has a million subscribers, the result of 3% seems impressive.
High ER means that the account appeals to the audience or raises acute topics. If subscribers and engagement are growing simultaneously, the brand or influencer doesn't cheat and attracts targeted traffic. And their audience, in turn, wants to associate themselves with them.
5. Social Media ROI
Social media ROI means your return on investment. It belongs to a group of social media metrics and illustrates what a company receives from its social media marketing efforts.
Measuring social media ROI is more complex than measuring ROI for more traditional marketing methods. It's because social media used to be less related to the process of buying or selling.
However, social media technology develops and creates new ways to shop. Different platforms become more transactional. For example, Facebook allows opening an online store from a profile. Thus, businesses and organizations can measure the ROI on social media more easily.
There is another approach to social media ROI. Some experts say it also stands for engagement rates, such as leads, customers, and subscribers, and not just the amount of sales.
Four Tips to Improve Social Media Metrics
Once you have decided what social media metrics you will deal with, you need to work out steps to increase them.
1. Select a Channel According to the Content and Target Audience
Social media channels differ in their audience and purpose. If you represent the beauty, travel, or clothing industries, then focus on Instagram or Pinterest in your promotion strategy. On the other hand, if you work in technology or media, then Twitter is worth considering.
Check social media metrics on various platforms. They are better where there is higher audience engagement. Thus, it makes sense to put your efforts where your content brings in more potential buyers.
There is a logical explanation for this. Choosing the right set of platforms will save energy, resources, and time, and you can implement your strategy more effectively.
2. Post at the Right Time
Can you publish content whenever you like? No, the rule "the earlier you publish, the more likes you have" doesn't apply here. Your content will receive less reach if you post it at the wrong time.
There are certain hours when your audience is most active, and you can beat your competitors. Publish posts during peak hours so more people will see, like, and comment on them.
It's best to share content at 10:00 A.M. on Tuesdays, Wednesdays, and Thursdays. Otherwise, it will get to the bottom of your followers' timelines.
3. Announcements in Stories
This strategy is suitable for promoting on Instagram. If your followers haven't seen the post in the feed, they can see it in stories. Make an exciting announcement and add a link to your account or website page.
Miniso understands that the post can get lost in the feed. Therefore, it duplicates it in the stories to tap on the photo and deliberately go to the account to read the information.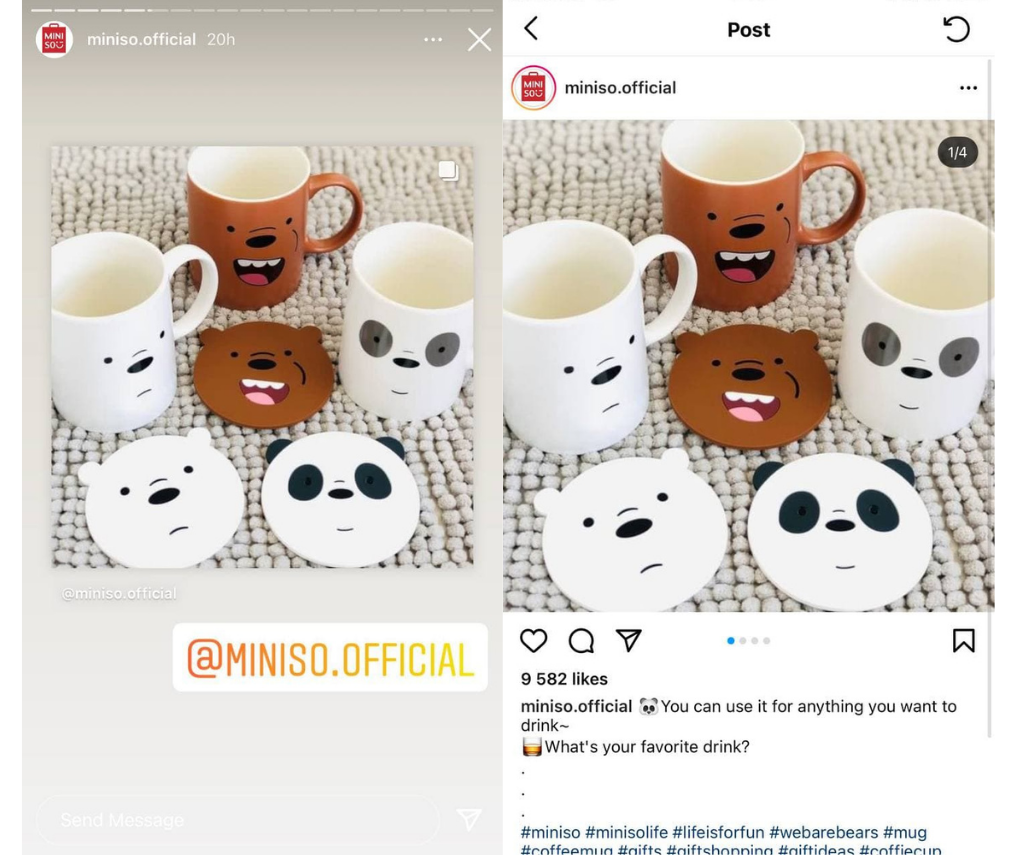 Screenshot taken on the official Miniso Instagram account
4. Add Relevant Hashtags and Geotags
Location posts attract new people. Thanks to geotags, you can easily find the right place on the map, be it a shop, cafe, park, or beauty studio. If you work in a certain region, geolocation can attract your target audience.
So do hashtags. Hashtags are social media keywords. You can search for them, click on them and see publications with such a mark, but that's not all. For example, Instagram allows users to follow specific hashtags. Therefore, find out which hashtags your audience is interested in tracking and apply them to your posts.
How can you profit from hashtags? Your buyers will feel like they're a part of a like-minded community. You receive more customer loyalty, brand recognition, and unique user-generated content.
To illustrate my point, Free People inspires its subscribers to mention its brand in various ways. People add a specific hashtag to their photos and get a chance to be among other customers to appear in the company's account.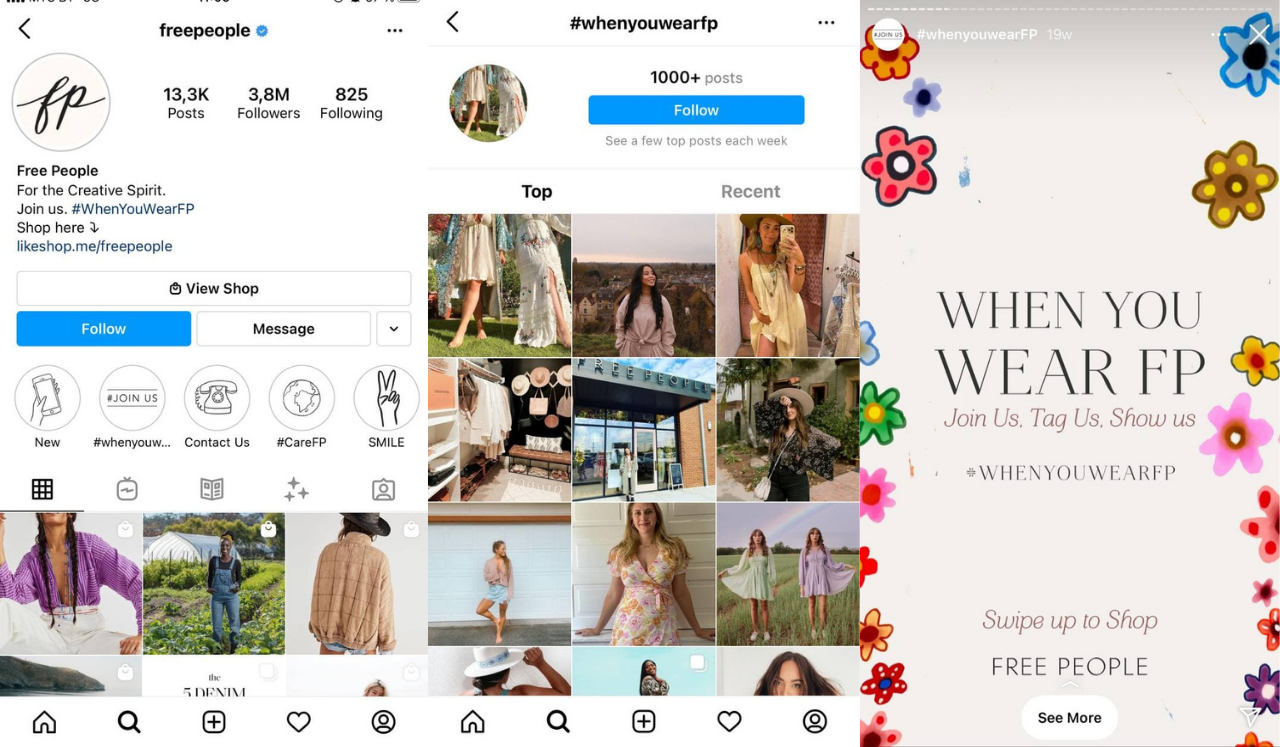 Screenshot taken on the official Free People Instagram account
Wrapping Up
When working in social networks, remember that it's a communication channel between consumers and the brand. You build your reputation, warm up the audience, and hold events there.
How can you estimate the effectiveness of your efforts? All social platforms provide detailed analytics to business owners. Great social media metrics reveal that your actions resonate with your audience.
Plus, you can use various social media promotion methods, be it hashtags or user-generated content. And then, the best indicators of your business development will be the growth of sales, conversions, and the company's revenue.