Software
7 Top AI Tools For Marketers and SEO Professionals
To justify a continued investment in marketing initiatives by top management, you'll need to demonstrate how your marketing efforts contribute to top level revenue goals.
That means consistently hitting your marketing KPIs to get more marketing and sales qualified leads while reducing the cost of customer acquisition.
For example, some of your content and SEO KPIs are tied to the effectiveness of your content production process, which involves proofreading, optimization, and translation.
These, among other repeatable tasks, take up lots of valuable time and you'll either need to hire a larger team to publish content consistently without sacrificing on quality or slowing down on content.
Fortunately, with AI tools you don't have to slow down or hire more people to keep up with your publishing schedules.
AI tools are becoming a critical part of most marketing teams because they improve operational efficiency, speed up data analysis, and improve the quality of the end-to-end buying experience.
In this post, we'll talk about different AI tools that can help you improve the efficiency of your content operations to help you efficiently hit your KPIs.
List of Top 7 AI Tools For Marketers
Jasper: Best for content creation at scale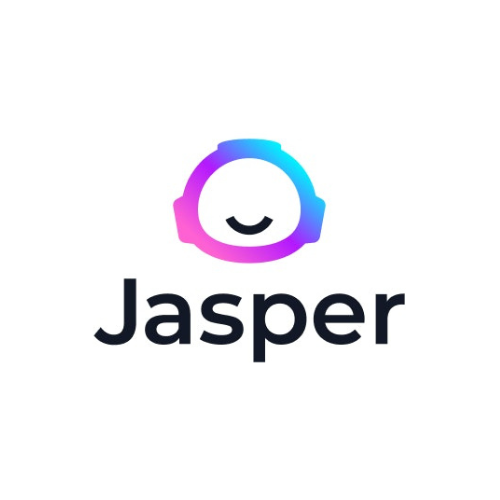 A study by SEMrush on the state of content marketing reveals that 42% of companies have 1-3 content specialists and another 21% of companies do not have a dedicated content team.
While that represents a huge number of small and medium level businesses without huge content budgets to hire and run a content team, bigger companies have more content specialists to take care of the entire content lifecycle.
That means if you have a small content team or you don't have a content team and are competing with bigger brands, then your fate must be sealed, right?
Well, not so much because Jasper AI comes in to fill in the gaps and help you create different types of content at scale.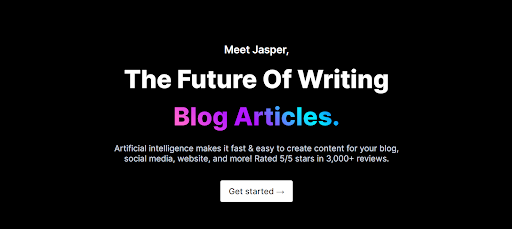 AI-generated content will never replace the human element regarding creating content.
However, having an AI tool like Jasper will help you overcome common hurdles such as writer's block, as it comes with content templates for different types of content you're creating such as How To blog posts, List posts, sales pages, and landing pages.
Features:
Allows you to write copy and convert it into 25 different languages
Integrates with Grammarly to edit your content (Boss Mode promises to write your content and edit 20% i.e. grammar and spelling errors)
Integrates with Surfer SEO to streamline your content workflow. Create content in Jasper and optimize it in Surfer SEO.
Users have access to their Agency, SEO, and Web Copy Courses to help them understand how to create content using Jasper
It comes with a community and plenty of support to help you get started
Pricing:
Jasper comes with two pricing tiers: Starter ($29/mo for up to 20,000 words) and Boss Mode ($99/mo for up to 50,000 words).
Sotrender: Best for social media teams looking for advanced AI-driven data analytics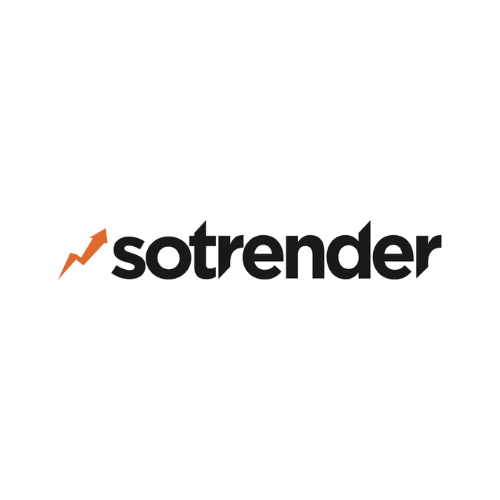 Sotrender is a social media AI-driven analytics and reporting tool that should be present in every marketer's toolbox.
Would you like to know the sentiment of your organic and paid social media communication? Want you to understand which of your content is most-liked by your audience? Or how do your ads perform compared to competitors?
If the answer is yes, Sotrender will come in handy.
Sotrender's sentiment analysis powered by AI will help you understand how your social media posts are received by your fans. With the automatic sentiment analysis you will quickly learn which of your content was a good shot and which was just the opposite. Monitoring the negative sentiment is especially crucial, as even one negative comment can spread quickly and lead to a PR crisis.
One of the latest releases in Sotrender was Benchmarking available within ads analysis. With the use of the Federated analytics approach it lets marketers track their competitors' social media advertising efforts and results. As the AI is analyzing and pulling out data that are anonymized, marketers can easily learn how the ad spend and ad results look like in their niche, without knowing insights data.

Features:
Provides marketers with extensive data about the effectiveness of their organic and paid activities
Enables to monitor and analyze competitors ad results
Helps to understand your audience reactions and content performance better
Ensures the continuity of historical data
Makes it easy to generate summary reports in a minute's notice
Pricing:
Sotrender comes with 5 pricing plans, starting from $34 a month, up to $331 a month for enterprise clients
MarketMuse: Best for content teams looking for an enterprise solution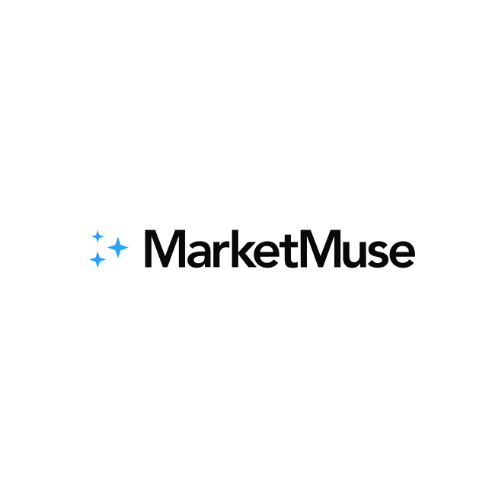 MarketMuse uses AI to help you create content briefs that have relevant subheads, word count suggestions, and relevant term suggestions so that your team can create relevant content that has an opportunity to rank on search engines.
The brief also comes with internal to help you build the correct internal site structure and external link suggestions to help you partner with others creating relevant content that would be useful to your readers.
Features:
Research application helps you dig deeper into your content topics and variants to include in content to increase its chances of ranking on Google.
Compete application identifying top ranking content based on relevant terms used, topics covered
Optimize application points out the different topics and terms you need to include in your content to help you meet and satisfy user's intent
Questions application digs deeper to find all questions that users ask about a particular topic to help you identify searcher's intent with greater accuracy.
Assume you want to optimize content on a topic like "procurement management.'' How would each of these applications help you optimize your content?
Start with the Questions application to identify what questions your target audience is asking: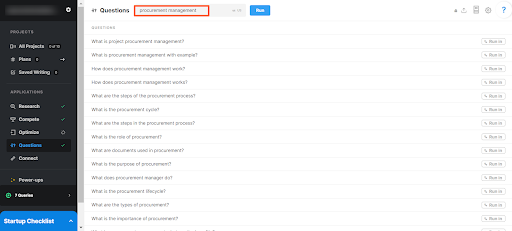 Then go ahead and identify the competing posts using the Compete application: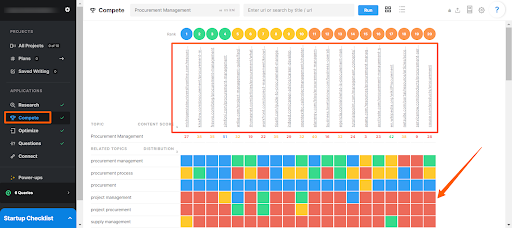 Each post comes with a score representing the number of times it has used relevant terms related to the topic. The heatmap represents content gaps.
A simple search on Google for the keyword won't provide you with such a comprehensive list of related terms or questions people are asking. So, when relying on the AI capabilities that MarketMuse provides, you're a step ahead of your competition.
And finally, use the Optimize application to improve your content.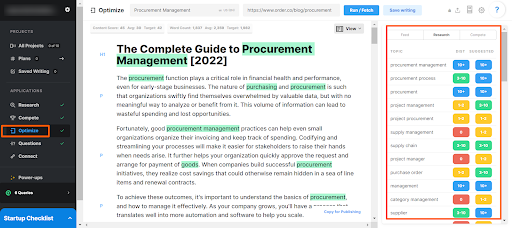 Pricing:
The tool comes with three pricing plans: Free, Standard ($7200 per year), and Premium ($1200 per year). The free version allows you to run 15 queries per month.
SurferSEO: Best for content teams looking for a mid-market solution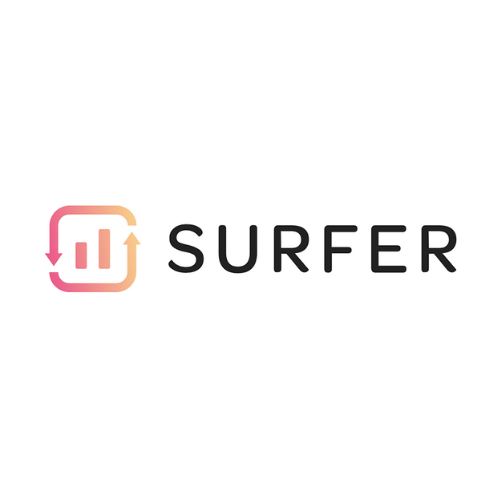 While MarketMuse caters to ​enterprise users, SurferSEO caters to mid-market companies, i.e., small businesses, consultants, freelancers, and bloggers.
It also comes with AI capabilities, with one of the most outstanding features being using NLP to analyze a keyword to uncover search intent. As we will see shortly, you can also create content outlines using Surfer to speed up the content creation process.
Features:
The content editor helps you optimize your content based on relevant terms to improve your rankings
The audit tool analyzes your published content to identify issues such as missing internal and external links, relevant terms and their variants to use in content. If you're looking to outrank a specific webpage, you can compare it side by side to identify gaps you need to fill to outrank it.
Content planner tool helps you group together similar keywords based on search volume, intent, and difficulty. Doing this helps you avoid creating duplicate content and create comprehensive content that satisfies searcher intent.
SERP analyzer tools analyzes your keyword and provides you with a detailed report on pages ranking for that keyword.
To see SurferSEO's AI features in action, let's take the keyword we're using for this blog post: ''AI Tools for Marketers."
The SERP analyzer tool provides a detailed NLP and sentiment analysis of the keyword and the content that is already ranking for the same keyword: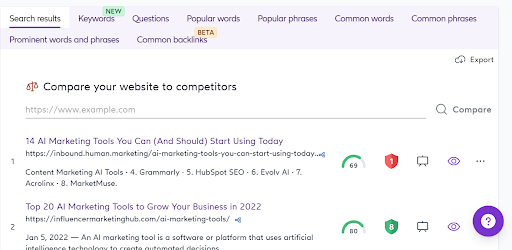 Once I understand what content is ranking and why it is ranking for the target keyword, then I can head over to the Content Editor tool to create an outline using the keyword. Surfer AI provides headlines, subheadlines, and suggestions on what questions I should answer in the content: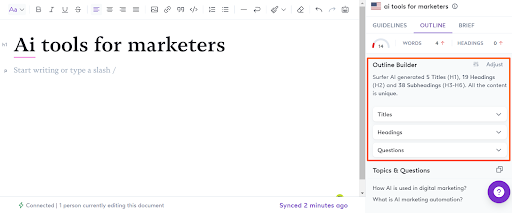 The paragraph writer, which also uses AI, is still in beta stage, also happens to be catching up with the introduction you just read at the beginning of the post: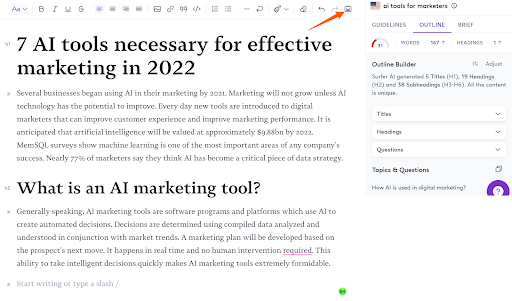 Pricing:
SurferSEO comes with three pricing plans: Basic at 59/mo, Pro at $119/mo and Business: $239/mo
Smartling: Best for content teams creating local content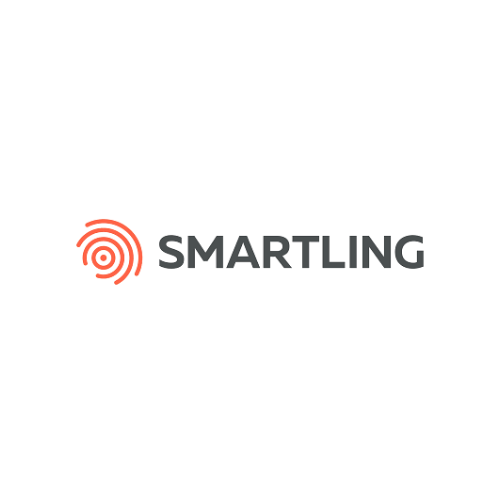 In their industry report on the state of Local SEO, Moz reveals that 33% of SEO professionals and marketers want their clients and the companies they work for to dedicate more resources to link building and local content development.
Without relevant local content, it is difficult to build links, meaning that traffic, conversions and sales remain elusive.
Companies serving customers in different regions translating their content to the local language use translation services that rely on Neural Machine Translation.
While that part of the problem is solved, the challenge is not knowing how to remain efficient while maintaining quality in your translations as you scale your local content development efforts.
And to do that, you will need Smartling, a translation service that not only relies on AI to translate your content, but also uses AI to make sure that you scale up your local content development efforts without a hitch.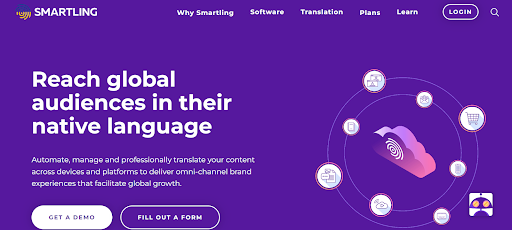 To ensure the quality of your translation, Smartling's AI steps in to clean up the translated content, identify issues that you need to address, without having a human translator stepping in.
It ensures efficiency of your translation process by having dynamic workflows. Smartling understands that not all content can be translated using a machine, so, it relies on your translation memory to identify word matches, and if the results are fuzzy, it moves your content to a human translator.
Features:
It provides you with visual context to help you see how your content will fit into the website
It integrates with different content management systems such as WordPress, Sitecore, Contentful, and Drupal to streamline your workflows
It has an intuitive dashboard where you can view all your projects and get real time updates on the progress of your translations through its automated workflows
All your translations are stored in the cloud, meaning that you can access and resume them anytime to save on translation costs.
Pricing:
Smartling comes with two pricing plans: Growth and Enterprise. The amount you pay for either plan is based on volume or committed usage.
Writer: Best for AI Writing Assistant for Quality assurance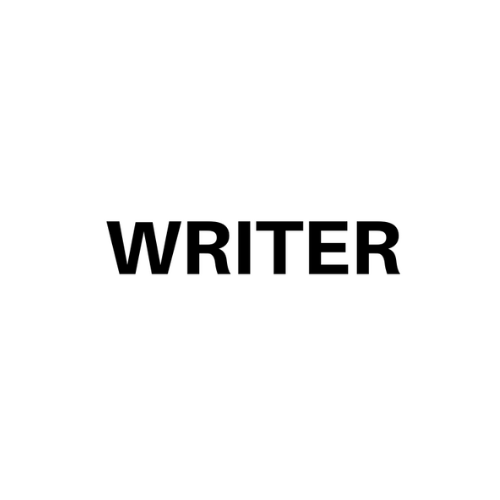 Most writing tools tend to get away with doing the bare minimum: correcting, punctuation, plagiarism, and grammar.
Writer, on the other hand, excels at the basics, and goes ahead to use AI to help writers create accurate content that aligns with their brand. The AI feature relies on deep learning to understand different writing styles, memorizing your style guide to keep everyone in check.
For example, here's a post on plagiarism checkers inside Writer: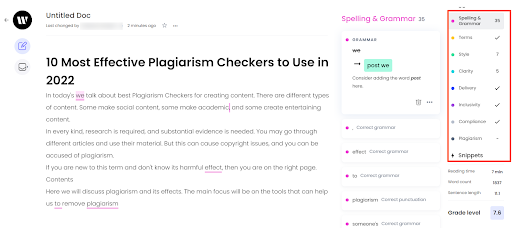 Features:
Writer comes with a Chrome extension that helps you correct your grammar on different web apps such as Gmail and Google Docs, and Notion. Turn it off for specific websites depending on your preferences.
It provides you with templates to help you build a style guide without having to start from scratch
It helps you customize your writing voice, tone, and style to guarantee consistency in all your communication channels
Pricing:
Writer has four pricing plans: Free, Pro ($11/mo), Team ($18/mo), and Enterprise (talk to the sales team for a quote).
Reply.io: Best for personalized outreach at scale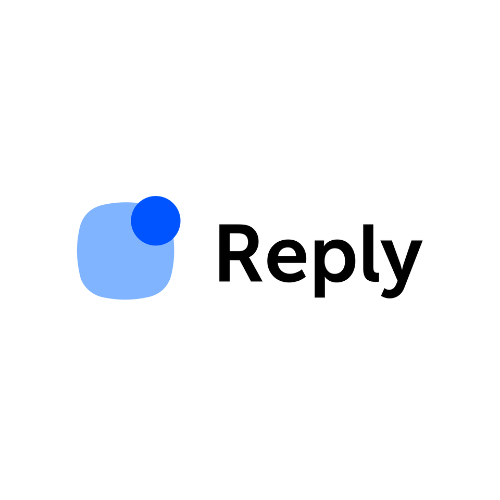 For most SEO professionals, building links to their existing content is a numbers game. Get the maximum number of contacts, send out your emails, and somehow, you're going to get the links you're looking for. In the long run, it is not effective.
The other option is equally hard: Crafting personalized outreach emails and sending them to each of your contacts is difficult and time consuming. You may have all your email sequences, contact information figured out, but without knowing what to say, your efforts won't pay off.
Which brings me to Reply.io.
In addition to being an email outreach tool for your PR and link building efforts, it comes with an AI email assistant powered by GPT-3 to help you write customized emails at scale. The GPT-3 assistant allows you to either improve your current email, create an email from a summary, or bullet points you write in the writing area: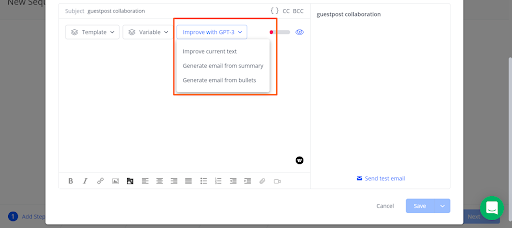 It also allows you to generate followup emails based on previous email threads, so all you have to do is customize your email to fit the intended recipient.
Features:
It allows you to create automated email sequences, including followup emails for your PR and LinkBuilding efforts.
It allows you to segment your audience to improve personalization
Pricing:
Reply has three pricing plans: Individual, Business, and Agency. Individual users pay based on the number of contacts. Businesses and agencies pay based on the number of seats they use on the tool.
Story Generator: Best for creating compelling and original stories with ease
In the dynamic world of marketing, the Story Generator is a game-changing tool, fostering creativity, efficiency, and engagement. Powered by cutting-edge AI algorithms, it allows marketers to generate captivating and professional stories with just a few clicks. Whether it's content for blogs, websites, or creative projects, the Story Generator enhances productivity by saving significant time and effort that might otherwise be spent on research and writing. Its customizable options enable alignment with specific requirements, ensuring the content is resonant with the target audience. Furthermore, by providing an endless stream of fresh narratives, it aids in overcoming writer's block, thereby nurturing creativity. With increased reader engagement, this innovative tool is not just a boon for content creation but a robust strategy to drive more traffic.
Features:
Effortless Content Creation: Generates engaging stories in seconds without the need for extensive research or writing, catering to various content needs.
Customizable Options: Offers the flexibility to tailor stories according to specific requirements and preferences, ensuring alignment with marketing goals.
AI-Powered Innovation: Utilizes advanced artificial intelligence technology to produce grammatically correct, well-structured, and original narratives that captivate the audience.
Pricing:
Story Generator is available for free as one of many other AI tools on Vondy platform. For further usage, you should choose one of three plans: Plus, Pro, or Business, and get credits to use on any of the AI-powered apps you can currently find on Vondy.
Conclusion
AI tools come with different capabilities, and the most important thing to keep in mind is that AI is still growing, and the capabilities will only grow in the coming future. So, less is more, regarding AI so you're able to focus on leveraging the current capabilities to hit your KPIs.
So, if you've been looking for an AI tool to help you with your content efforts, then pick a tool from this to help you get started. If you're a small business, go with SurferSEO. If you're looking for an enterprise solution, go for MarketMuse.
To streamline your content so you don't have to review the voice, tone, and style every other time before publishing content, pick Writer and if you're looking to translate your content to a local language efficiently, Smartling comes in as a reliable companion.