SEO
AI-Powered Optimization: AI Tools for SEO Professionals
SEO or search engine optimization is an indispensable aspect of marketing, no matter what your niche is. If you want your audience or customers to find you, you better step up your SEO.
No matter how valuable your online content is, it will amount to nothing if you don't back it up with a good SEO strategy. 
Admittedly, optimizing your website, social media, and other online marketing materials can feel like a Sisyphean task. But with AI SEO tools, it doesn't have to be. Whether you lead a small SEO team managing several brands or a one-person operation optimizing your online shop, AI tools for SEO can be a game changer.
Best 8 AI Tools for SEO Professionals
In this blog, you'll find 8 AI SEO tools you can use to boost your optimization workflow. 
CF Spark Writer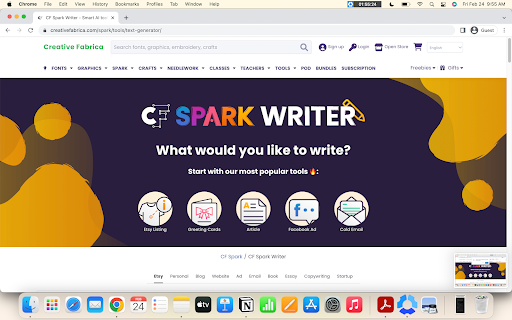 CF Spark Writer is a text generator launched by Creative Fabrica, alongside its image generator tools under CF Spark. Because of its simple interface, it's a good AI suite to access if you're a beginner entrepreneur who wants to level up your SEO. It features various text generators that are fairly easy to figure, especially if it's your first time figuring out AI generator tools.
Specific to SEO, CF Spark Writer has an SEO Meta Description generator, a Landing Page Herot Text generator, and Blog Content generators. The tools ask you for certain information, including keywords you want to highlight in your text.
If you're an Etsy store owner, you'll need SEO-friendly text to optimize your store. CF Spark Writer has text generators for Etsy, such as its Product Description generator, Product Title generator, Etsy bio generator, and Etsy store name generator.
Alli AI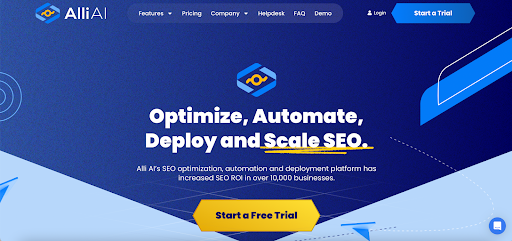 Alli AI is an SEO software built for SEO teams that manage multiple brands and websites. It offers three different subscription plans: enterprise, agency, and ecommerce. 
Its biggest attraction for big SEO teams is its ability to do bulk page optimization, which lessens the tediousness of applying optimization changes per page. 
If you operate with your own CMS, you don't need to perform any complex coding with Alli AI – you simply need to input their one-line code snippet to your site to optimize.
Alli AI also makes regular weekly recommendations on your SEO by automatically recrawling your site. If you make any changes on existing content, you can likewise get fresh recommendations from Alli AI with just a click. 
MarketMuse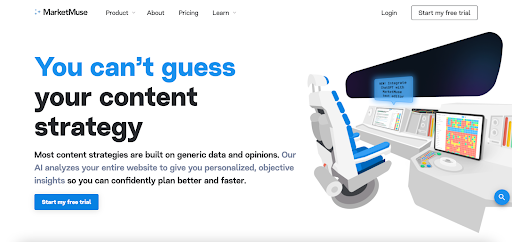 Marketmuse is an AI content strategy software. It aids SEO teams of all sizes in planning an SEO content strategy with a focus on building content clusters. 
Using AI, data science, and the latest in SEO, Marketmuse performs automated site audits, analyzing your current content and related web pages to help you improve your content strategy. 
Marketmuse is also able to perform analysis on content inventories and audits, allowing you to learn more about where your content stands in terms of authority and quality. This is particularly useful if you want to level up your content and establish your brand expertise. 
Outranking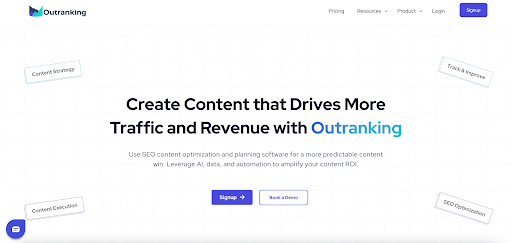 Outranking uses AI and data analytics to help SEO teams come up with an effective SEO strategy and generate content that automatically integrates this strategy. 
Its top features include its ability to generate a draft based on its SERP ranking analysis. It cuts your content creation time in half, so you can dedicate more time to fine-tuning your content, fact-checking, and rewriting.
It also has a powerful SEO content editor which gives you top notch ideas for titles, subheadings, and answers to People also ask that rank. 
NitroPack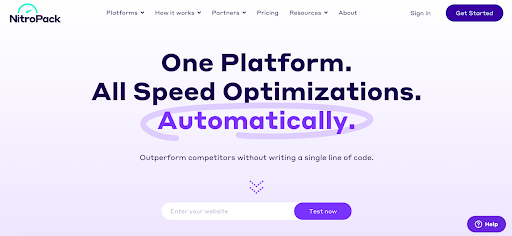 NitroPack is an AI SEO tool primarily focused on helping you optimize the loading time of your website.
Web pages that load fast have the potential to rank higher on SERP. That's why page speed is such a crucial part of SEO that needs your attention. Aside from SEO purposes, a faster website simply delivers better results overall, allowing you to outperform your competitors with better user experience and higher conversion rates.
The tool is currently available for integration on WordPress,  Magento, WooCommerce, and OpenCart.
WordLift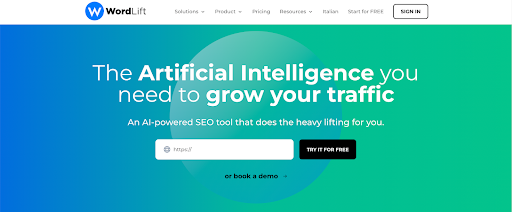 WordLift is an AI SEO plugin you can use on Google Sheets and other apps . It's a fairly simple to use add-on  that anyone with a basic working knowledge of Google Suite can figure out right away. 
With WordLift, you can easily get data and analysis on search queries, showing you everything you need to know about the search term and how it ranks on result pages and more. 
You can also use the plugin to compare and contrast websites. This is particularly useful if you're looking for ways to improve your content strategy. Learning from your competitors and other successful websites will give you insight on how you can further improve your website SEO.
CanIRank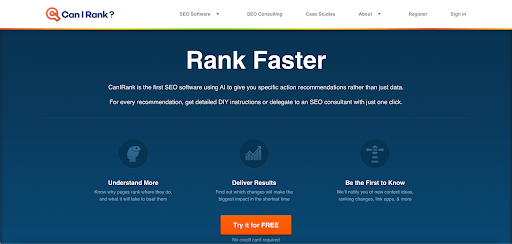 Can I Rank is a small enterprise-friendly AI SEO software. It's helpful in that it scans the internet not just to show you data on what works, but also to offer you plans on how you can use the insights on your own website. 
The software is particularly useful for finding link building opportunities, providing you with steps on how to reach out to popular content creators in your niche.
Diib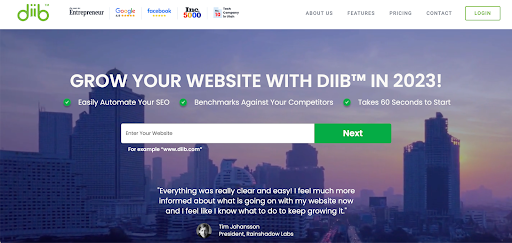 Diib is an AI SEO tool suite that provides you with various services to improve your SEO. These include insights on your search engine rankings and your competitors' which you can use to grow your website.
Aside from your keywords and entities, Diib also provides page speed insights and analytics on  your social media presence. It also helps you check how mobile-friendly your website is.
Its most helpful feature is its alert system, which automatically notifies you for urgent SEO-related concerns. In its dashboard, you get a full view of the health of your website, plus automated weekly reports giving you a summary of the current state of your website's SEO.
Boost Your SEO Effortlessly with AI Tools
This list is by no means an exhaustive list of the top AI tools for SEO available, but they represent the breadth and depth of what AI tools can do for your brand, agency, or business. Explore these tools to find one that can improve your workflow so you can succeed in the increasingly competitive world of search rankings and SEO.