Google Tools
Google Skillshop : One-Stop Training Center for Digital Marketers
If you want to advance your digital marketing career, Google Skillshop is worth your time and work.
The online platform offers extensive study materials to help you develop your abilities and a set of certifications to confirm your knowledge.
In this guide, I'll go over the Google Skillshop program in detail, explaining how it works and how it might help your career.
What is Google Skillshop?
Google Skillshop is a center for professional training and certification for those who utilize Google's marketing tools and other programs.
Some classes teach how to use various Google products such as Google Ads, Google Analytics, YouTube, and others.
You can also obtain certificates demonstrating your expertise in a certain area of Google marketing.
Each certification comprises a series of lectures that will prepare you for the final exam. The certificate is awarded if you pass the evaluation.
Google Skillshop courses are self-paced so that you can go independently.
Is Google Skillshop Free?
All of Google Skillshop's courses and certifications are free. Create a Skillshop account to gain access to the material.
The program used to charge a fee to take the tests. However, the program is free for all users now that Google Academy for Ads has been relaunched as Skillshop.
Courses and Certifications Offered by Google Skillshop
Google Skillshop provides courses on many topics, such as Google Ads, Google for Education, and Google Cloud.
Here is a complete list of all Google Skillshop classes:
Google Display Advertising Certification
Google AdWords Certification
Google Shopping Ads Training
Google Ads Metrics Certification
Google Ads Video Training
Google Ads Apps Approval
The Google Ads classes are particularly relevant to me as a digital marketer. This is also where you will locate the various Google Ads certificates.
Google Ads Display Certification
This certification verifies your ability to develop effective Google Display Network strategies and campaigns.
Certified marketers understand how to raise brand awareness, develop a strategy for reaching new customers with Google Display Audiences, and retain existing customers.
The following lessons are included in the course:
Google Ads can help you grow your business.
Identify Google Display Ads Campaign Types
Reach out to users with Google Display Ads
Boost Efficiency with Automated Bidding Deliver the Correct Message on Google Display Ads
Performance Planner can help you increase conversions.
Google Search Ads Certification
This certification validates your ability to design successful Google search campaigns. When you finish the certification, you'll know everything from ad extensions to bidding tactics.
To prepare for the certification, the following courses are taken:
Google Ads can help you grow your business.
Investigate the Importance of Google Search
Recognize the Google Ads Auction
Text Ads Can Deliver the Right Message
By using Search Ad Extensions, you may make your ads more relevant.
Automated Bidding Increases Efficiency
Using Search Audiences, you may reach out to valuable customers.
Increase Performance with an Optimisation Score
Conversion Rate Increase with Performance Planner
Google Shopping Ads Certification
This certification confirms your competence in designing and optimizing Google Shopping campaigns. After finishing the assessment, you will be able to:
Use Showcase Shopping Ads to target clients at the beginning of their purchasing process.
Make use of Smart Shopping Campaigns.
Drive customers to your store.
To prepare for the exam, the following courses are used:
Google can help you grow your retail business.
Shopping campaigns can help you reach more customers.
Local Product Ads Drive Shoppers In-Store
Showcase Shopping Ads Can Help You Promote Your Brand
Google Ads can help you grow your business.
Increase Conversions with Performance Planner Increase Efficiency with Automated Bidding
There are over two hours of course material in all.
Google Ads Measurement Certification
This certification demonstrates your ability to analyze and optimize digital ad performance using various Google measurement methods. After finishing this course, you will be able to:
Create a tracking system to track sales, downloads, leads, and other conversions.
Select the optimal attribution model for your company objectives.
Convert your marketing goals into measurable activities.
Take action based on the insights gained from conversion data.
The courses listed below will help you prepare for the exam:
Convert business objectives into marketing objectives.
Assign a monetary value to what is being measured.
Take Action Based on the Results
Learn about Conversion Tracking.
Set up Conversion Tracking to Achieve Your Objectives
Conversion Data Analysis and Optimisation
Learn about Google My Business.
Why Do They Adore the Google Marketing Platform?
All of this amounts to about 3.5 hours of course material.
Google Ads Video Certification
This certification attests to your ability to create and execute successful campaigns utilizing YouTube and other Google Video advertising solutions. After completing the certification, you will be able to:
Improve ad relevance by using YouTube audiences.
Use video formats to raise brand awareness and encourage action.
Create innovative approaches to telling brand stories.
To prepare for the exam, the following courses are used:
Discover YouTube's Worth
Connect with Your YouTube Audience
Understand Video Ad Formats
Investigate YouTube Creative Essentials
Recognize YouTube for Action
The course material totals more than 2.5 hours.
Google Ads Apps Certification
This certification demonstrates that you understand how to use Google App campaigns to create commercial impact. After completing the certification, you will be able to:
Create App campaigns that meet unique marketing objectives.
To improve performance, employ sophisticated tactics.
Enhance the app's quality and discoverability.
The following courses will assist you in preparing for the final exam:
Recognize the Apps Ecosystem
Investigate Google App Campaigns
Create Your App Campaign What Matters in App Campaigns: Goal Measurement
Start with the App Campaign Settings.
Complete the App Campaign Assets and ad groups
The Marketer's Role in App Campaigns
Help the Machine Create a Better App Campaign
Make and Improve Your App Campaign
Understand the Outcomes of Your App Campaign
Improve the App Experience
Increase the app's market reach.
There are 1.5 hours of course material in total.
Along with Google Ads qualifications, Skillshop offers Google Marketing Platform and other credentials. This includes the following:
Certification for Search Ads 360
Certification for Campaign Managers
Certification for Creativity
Certification for Display and Video 360°
Individual Google Analytics Qualification
YouTube Music Approval
Certification for YouTube Music Rights Management
Certification for Mobile Work Experience
Are Google Skillshop Certifications Recognized?
Google officially recognizes Google Skillshop certifications.
When you pass a certification exam, your account is updated with a link to a digital copy of the certification.
A completion ID, issuance date, and expiry date are all included in the digital certification.
The link to the digital certification can be included on your CV or LinkedIn page.
You can also share your profile link, allowing you to display a single page with all the certifications you have received.
Read Here: How do Google Workspace Support Businesses?
How to Get a Google Skillshop Certification?
Starting with Skillshop and getting your credentials is a simple procedure.
Let's go over the actions you'll need to take:
Step 1: Register for Skillshop
The first step is to register with Skillshop. You must use your Google account for this.
Navigate to Google Skillshop and select the Get Started option. If you are not already logged in, you will be prompted to sign in to your Google account. You will then be required to accept the terms of service.
You will then be led to a page where you may build your profile. You cannot change your name or email address, but you can add a company, company email, and recovery email address.
You can also link your Google Ads and YouTube accounts to your Skillshop account.
After you've created your profile, you may search for courses and certificates by selecting the Browse symbol in the menu bar.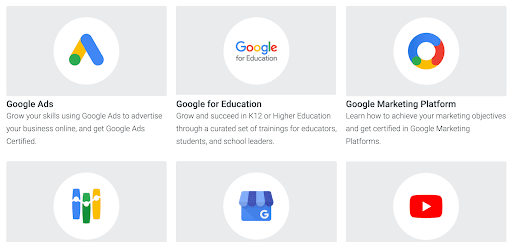 The following subjects are covered on the following page:
Google AdWords
Google Apps for Education
The platform for Google Marketing
Analytics Institute
My Business on Google
YouTube
Ad Manager by Google
Google Cloud Platform
E-Learning for Waze Fundamentals
Google AdMob
Authorized Purchasers
Android Enterprise Training
Navigate to the Google Ads subject, then to Google Ads Certifications.
There is a selection of Google Ads certification programs available there. Each program will show the total time required to finish the course, the skill level, and the review grade.
The Google Ads qualifications have no chronological order, so you can pursue them in whatever order you like.
When you click a certification, you are directed to the main page of that course.
By the conclusion, you'll get a quick rundown of the course and what you should know.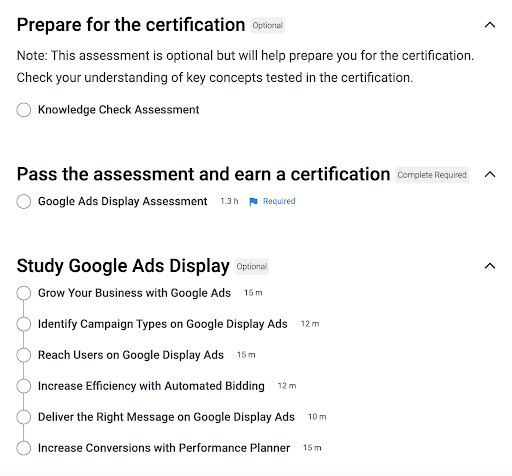 There are three sections below this:
Prepare for the certification – includes a link to a practice exam
Pass the exam and obtain a certificate – includes a link to the certification exam
Study – a list of lessons that contain material linked to the certification subject.
Step 2: Prepare for the exam
Each certification comes with lessons to help you prepare for the exam.
The lessons are simple to understand and are developed with assessment in mind. They are mostly made up of text. There are also some interactive features, such as flash cards.
Each session includes fast review questions and a knowledge check at the end. You have completed the lesson if you pass the knowledge check.
On the main page of the certification, you may keep track of the lessons you've finished.
When you have reviewed the content and passed all of the knowledge assessments, a checkmark will display next to that lesson on the certification main page.
After completing all of the classes, you'll want to review the content again to prepare for the exam.
You can also test your knowledge using the Knowledge Check Assessment. This is a practice exam with a few dozen multiple-choice questions.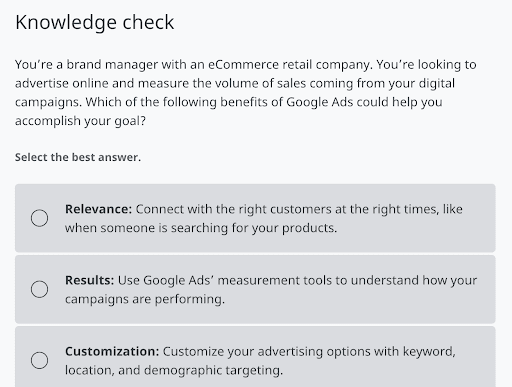 When you finish the practice test, you'll be given a score and a summary of the questions you answered incorrectly.
This needs to include the right answers to the questions. Therefore, you must return to the relevant classes to review the material.
Step 3: Take the exam
Each certification evaluation is offered online directly through the Skillshop portal.
The tests are administered in the standard multiple-choice format. The exam has a time limit of 75 minutes to finish.
Depending on the certification, the number of questions on each exam ranges between 46 and 50.
Given the total number of questions, the exam time restriction is more than generous. Most people claim that the exam only took around half of the time given.
You cannot alter your answers once you have answered a question.
Most exams require a score of 80% or higher to pass. The lone exception is the Google Ads Apps certification, which requires merely a 70% or better on the exam.
You can retake each exam as many times as you need, but you must wait one day after failing to retake it.
When you're ready, click the link to the assessment under the Pass the Exam and Earn a Certificate headline.
The next page displays a disclaimer you must read before the exam.
The exam will begin with the first question after you click the Launch button.
In the top right corner of your browser, you can see the question number you are on and how much time is left.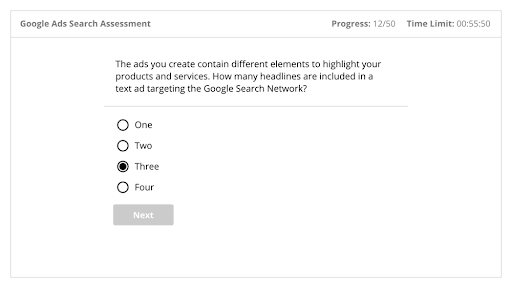 If you exit the exam without answering all of the questions, you will receive an automatic failing. You must then wait one day before taking it again.
After completing the exam, you will be directed to a page where you can see if you passed or failed. You will also be notified of the results through email.
If you pass the exam, your certification will immediately be visible on your Skillshop My Profile page.
All certifications are only valid for one year. You can renew your certification by retaking the evaluation.
These updates certificate holders on the newest modifications to Google marketing best practices.
Google Skillshop Alternatives
Google Skillshop is one of many online training options for marketers trying to expand their knowledge and skills.
Here are some of the top Google Skillshop alternatives.
Digital Marketing Courses
Digital marketing training courses enable you to swiftly develop the skills required for a successful career in digital marketing.
They cover all of the important components of digital marketing, such as:
Content promotion
Keyword research and SEO
Email promotion
Marketing on social media
Paid advertising
Analytics
An organized education program allows you to master the most important topics without wasting time deciding what to study next.
Digital Marketing Certifications
Participants are awarded a digital marketing certificate upon completing certain online marketing courses.
Digital marketing certificates, like Skillshop certifications, can assist in advancing your profession. They authenticate your expertise and help you stand out when hunting for work or clients.
Experienced digital marketers and professional organizations teach digital marketing certificate programs. The higher the value of the certification, the more credible the source.
Google Digital Garage
Google Digital Garage is a learning platform that offers a variety of online courses. The catalog includes both Google-produced courses and those created by third-party suppliers.
The Google courses are completely free and cover a wide range of digital marketing, technology, and business topics, such as:
Digital marketing fundamentals
Start an internet business.
Ensure that customers can locate you online.
Use online advertising to promote a firm.
How to Improve and Secure Your Online Campaign
Learn the fundamentals of coding.
You can obtain a certification after finishing the Fundamentals of Digital Marketing course.
The course is divided into 26 modules, each of which includes a mix of videos, practical exercises, and real-world examples.
There are approximately 40 hours of content that you can study at your speed.
You must finish all courses and pass a 40-question exam to get the certificate.
The certificate might benefit beginners because it demonstrates that you understand the fundamental concepts of digital marketing.
Google Analytics Certifications
Google Analytics certificates demonstrate that you understand how to utilize Google Analytics to analyze and act on data to improve your organization's performance.
With platform mastery, you'll understand:
Data gathering
Attribution and conversion
Reports
Metrics
Dimensions
How to Set Up Properties and Views
The Google Analytics Individual Qualification is accessible in the Analytics Academy's Skillshop.
There are two courses, each with around an hour's worth of material to review before the exam.
The exam consists of 70 questions. There is a 90-minute time limit, and passing requires an 80%.
Google Ads Courses
Google Ads is a robust advertising platform, and separate courses provide more detail into the subjects covered in the Skillshop courses.
Good Google Ads courses will typically cover the following:
How to set up and manage your accounting
How to target the right keywords
Bidding strategies
Budget optimization
How to create effective ad creatives
Real-world examples of Google Ads campaigns
Here are some places you can find high-quality Google Ads courses:
Udemy
Alison
Chartered Institute of Marketing
Facebook Blueprint Certifications
Facebook Blueprint is Facebook's professional training and certification program.
The courses teach you all you need to know about using the Facebook advertising network.
The certificates are among the most valuable digital marketing certifications available.
Here are the available Facebook Blueprint Certifications:
Associate in Digital Marketing
Professional in Marketing Science
Professional in Creative Strategy
Media Planning Specialist
Professional in Media Purchasing
Marketing Designer
Developed Advanced Marketing
Developed Advertising API
All Facebook Blueprint Courses are completely free. The tests, on the other hand, are not free. The level of the exam determines this cost. Professional tests are $150, while associate exams are $99.
The exam is more in-depth than other digital marketing certifications. You must plan a proctored online test or go to the closing testing location.
You will not be permitted to have any open materials, such as notes, in your testing areas during the exam.
The test is graded on a scale of 300 to 1,000. To pass, you must have a score of 700 or higher.
After completing certification, you will obtain a digital badge, which you may display on platforms such as Linkedin.
Google Professional Certificates
Google provides professional training and certifications in high-demand occupations.
There is no prerequisite for enrollment, and you can learn at your own pace.
There are several types of professional certificates available:
IT Assistance
Analytics of Data
Project administration
User Experience Design
Android Programming
Coursera hosts the courses for each credential. They comprise a variety of books, films, exams, and hands-on exercises.
To enroll in a certification program, go to the Coursera page for that program.
All certificates include a seven-day free trial. Following that, there is a $39 monthly cost to access the courses.
Each qualification takes about six months to accomplish if you study for 10 hours every week. Because you pay a monthly subscription to access the courses, the sooner you get the certification, the less it will cost.
You will be given an online certificate with a shareable link when you complete the course.
Google professional credentials can be an excellent investment. According to Google, 82% of professional Certificate graduates experience a positive professional event, such as a new job or promotion, within six months.
Top 5 Google Ads Training Courses to Enhance Your Google Skillshop Experience
In addition to Google Skillshop, consider these courses to expand your knowledge of Google Ads for your business:
LocaliQ Marketing Lab
LocaliQ offers a comprehensive learning hub for marketers, advertisers, and business owners. Their Marketing Lab provides a free PPC course and covers other key marketing channels such as social media marketing, SEO, and small business websites.
Coursera Google Digital Marketing & E-commerce Professional Certificate
Coursera, in partnership with Google, offers a digital marketing course designed to prepare users for entry-level roles in the field. The course takes six months or less to complete and requires a $49/month subscription to Coursera.
Udemy Google Ads Training Courses
Udemy provides various paid Google Ads training courses from different experts, allowing you to choose based on your unique needs. You can make a one-time purchase for a single course and preview courses before buying.
WordStream's PPC University
WordStream's PPC University offers free, self-paced resources on various online advertising topics, making it suitable for advertisers at all levels. It covers specific PPC topics like remarketing and keyword research and also includes courses on social ads and Facebook ads.
Class Central Google Ads Tutorials from Surfside PPC
Surfside PPC's YouTube Google Ads training courses, available on Class Central, are free and cover a wide range of material, including tutorials on specific campaign types and tools within the platform.
By combining Google Skillshop with these additional Google Ads training courses, you can gain a comprehensive understanding of PPC to make informed marketing decisions for your business.
Combine Google Skillshop with other Google Ads training courses for a black belt in PPC
Combine Google Skillshop with other Google Ads training courses to become a PPC black belt. If you're seeking powerful PPC strategies for your business, it's essential to familiarize yourself with all that Google Ads has to offer. These courses are designed to provide the knowledge you need to make confident marketing decisions for your business. Even if you're short on time, our solutions can simplify your Google Ads strategy and help you achieve your goals. Here's a recap of the Google Ads training courses we've covered:
Google Skillshop
LocaliQ Marketing Lab
Coursera Google Digital Marketing & E-commerce Professional Certificate
Udemy Google Ads training courses
WordStream PPC University
Class Central Google Ads Tutorials from Surfside PPC
Conclusion
Google Skillshop is a valuable resource for digital marketers looking to advance their professions.
The courses are simple to follow and offer an in-depth study of how to use various Google products.
You can obtain certifications in several areas of Google marketing to certify your expertise to employers or clients.
Furthermore, Skillshop is entirely free. The courses can be studied anytime you like, and there is no price to take the certification exam.
Sign up using your Google account and begin reviewing the courses.
Whether or not you become Skillshop certified, numerous legitimate online training alternatives exist for digital marketers to expand their knowledge.
FAQs On Google SkillShop
Is Google skillshop certificate worth it?
It's an excellent qualification for anyone interested in pursuing a career in digital marketing. This is something I will recommend to anyone who is just starting out as a Google Ads Specialist.
Does Google Skillshop offer certificates?
Yes, you can receive certificates for completing skill-based courses.
Is Google skillshop real or fake?
Skillshop is a Google training platform that you can use to build your abilities on Google's tools and solutions. It's for anyone who uses the below products. When you join up, you'll be able to access our online courses at any time, and finish them at your own speed.
Do Google certificates actually get you a job?
While Google Career Certificates will not automatically find you a job, they will boost your resume, provide you with specific skills that recruiters are searching for, and help you stand out to employers with industry-specific training.