Google Tools
Google Skillshop : One-Stop Training Center for Digital Marketers
Acquiring knowledge from the right place for getting profitable in the fast-paced world is not an easy task. If you're in the digital marketing field and seeking a genuine platform for growth, you have to try hard but as we know technology has left no stone untouched when it comes to enhancing knowledge, and Google Skillshop is something that expands your knowledge and skill value by providing on-demand training. 
Want to know what it is and how it works? Without wasting any more time, let's dig in.
What is Google Skillshop?
Google Skillshop is a training arena arranged by Google that leads the way to experts who work with several Google marketing tools and related strategies. The Google Skillshop is specially designed for professionals who are in search of the ultimate Google explanations regarding several Google programs, including Google Ads, YouTube, Google Analytics, and so on.
Google Skill shop not only procures training to programmers but also delivers a timely certificate to all users. All you have to do is to follow each Skillshop session to collect as much knowledge as possible. These solutions provided by the Google Skillshop are in-depth, accurate, and practical for the long run.
Once you get done with the training period, Google offers certification by assessing your skills and knowledge about certain niches of Google. For instance, if you are attaining training for Google Ads, the accreditation will contain many related topics and solutions that will show you the way to the ultimate test. If you somehow come up to scratch, you will get the Google authorized certificate.
How to Create your Account on Google Skillshop?
Unlike other platforms, opening an account on Google Skillshop doesn't demand anything out of the box. It is a straightforward process. Firstly, you have to open Google Skillshop on your device. You can search for Google Skillshop in any search engine, including Google, and open the site by clicking on the appropriate link.
Now, once you open it, you will see a "Login" option at the right top corner of the page. Press on it, and you will see your Gmail address (if you have one) as an option there. If you don't have a Gmail id or you want to use another id, you can link it as per your choice. Now, your account is created in the Google Skillshop. Learn, enjoy, and explore!
Does Google SkillShop Charge Any Fees?
No! Google Skillshop is a free platform where anyone can get themselves educated with the ultimate free solutions provided by Google. Although when it was started, it was not completely free of cost. The examination charged money from those who appeared for the exam. But, from when Google Ads has collaborated with Skillshop, it has become free for all. All you have to do is to create an account in the Google Skillshop and get enrolled in the Skillshop at a time.
Additionally, there is no need to rush. You can take your time and learn the courses slowly at your convenience. It is not like the regular classroom where you have to finish a course within a restricted period. Once you get enrolled, you are free to take courses for the rest of your life with the same account.
Read Also : How Google Workspace Help You & Check Google Workspace Plans
The Course Structure at Google Skillshop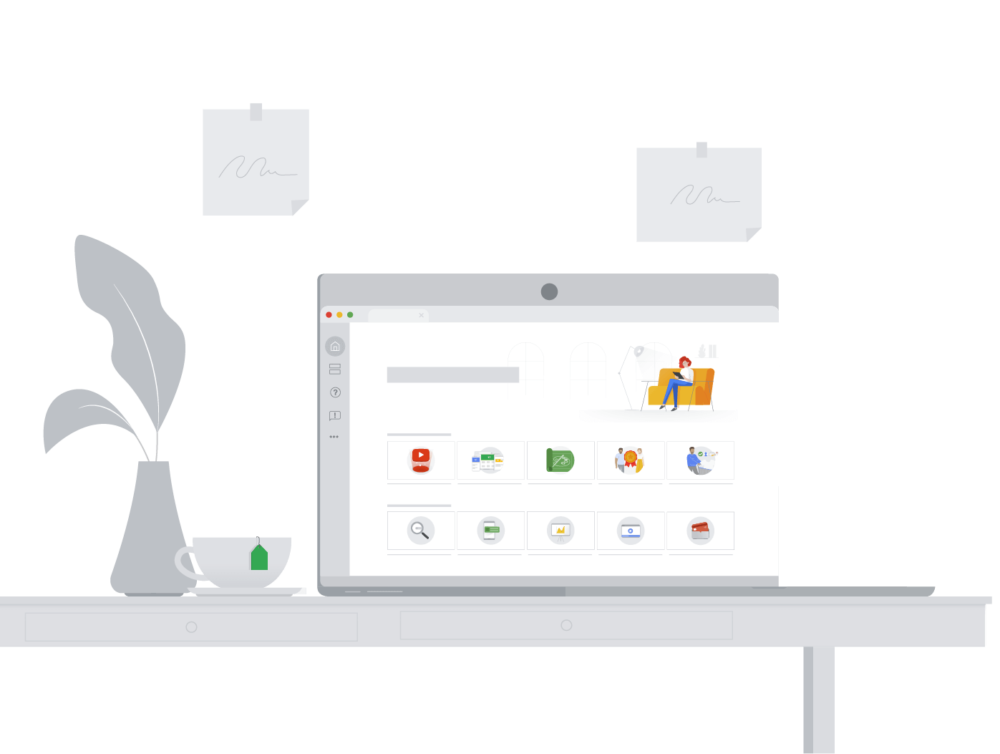 Google Skillshop is packed with impressive courses that are beneficial enough for a corporation, an individual, or some agency. Let's have a look at some courses available in Google Skillshop. Get in touch with a PPC agency for more details.
 Google academy

 

Google Ads

 

Google for Education

 Google Marketing platform

 Google Analytics

Google My Business

 YouTube

Google Ad Manager

 

Google Cloud

 Waze Fundamentals e-learning

 Google AdMob

 Android Enterprise Academy
Want to get a Google Skillshop certificate? – Follow these steps:
Number 1: Open an account in Google Skillshop
Once you get logged into the Skillshop using your Gmail or any other id, click on the "Get started" button.

 

Now, create your profile. Add your user name, change your id (if you want), and add the mentioned details. Don't forget to add a recovery email address for future security.

If you are getting trained as an organization, make sure to add your company name and other details.

You can link your Google Ads training account, YouTube account, and other accounts with the Skillshop google account.

Now, choose the course that you want to learn and get certified for.
Number 2: Prepare for the final assessment
Now, when you have chosen a particular course you want to attain knowledge about, it is time to start learning and getting ready for the final assessment.
All courses designed by Google Skillshop are quite easy and descriptive. Whether you are a beginner or a pro in a particular subject, you won't feel any complications in understanding the courses.
Additionally, make sure to take the practice tests provided by Skill shop with google. You can attend questions and evaluate your journey with this practice session. You have to go through each lesson with proper attention until you feel confident enough for the exam. But, you won't be given the right answers and explanations at the end of this test. Therefore, you have to go back to the beginning to find the right answers, and it will surely make you even stronger.
After going through these practicing sessions, once you feel confident, you can appear for the final assessment.
Number 3: The final assessment
The final assessment includes 50 marks of conventional multiple-choice questions. Users get one hour and fifteen minutes for completing the test. You can't edit your answers and will fail automatically if you leave the exam in between.
After the exam, you will get the result by email. If you pass, you can collect the certificate from your Google Skillshop profile. If you don't pass the exam, you have to wait for 24 hours before taking it again.
Read More: How do Google Workspace Support Businesses
Top Tips to Pass the Certification Test
The Skillshop certification exam is not the hardest one. If you go through the courses attentively, you can easily ace the exam and get your hands on the certificate soon. Here are some tips for you if you want to pass the Google Skillshop certification exam on the first go.
Pick one particular course at a time. Don't go for multiple courses at one time, as this may cause nothing but distractions. First, make up your mind which course is the most important one for you at that time. If you want to learn about YouTube, only attend the YouTube Skillshop course.

Start and cover the whole course with full attention. The platform is free and does not expire or anything. So, take your time and memorize every single detail with full compassion.

Complete the course from top to bottom. Do not go for a certification test before completing the course entirely. If you do so, there is a high chance of not getting your certificate.

Remember, you must score 80% and above for getting the certificate by Google Skillshop. So, prepare for this from the beginning.
Conclusion
Hopefully, now, you've understood how competent and versatile Google Skillshop is. All digital marketers who are in search of fame and success should get their hands on the free Skillshop courses at their early convenience. Log in, set your profile, attain the courses, get your certificate, and thrive on your proficiency.


FAQs On Google SkillShop

Is google skillshop free?
Ans: Yes, it's absolutely free.
Does Google Skillshop offer certificates?
Ans: Yes, you can receive certificates for completing skill-based courses.
What is Google Skillshop for?
Ans: Google Skillshop is a platform that teaches you how to build and market your own skill. It is an opportunity for anyone who has an idea for a new skill to get started in the marketing field, learn the basics of building marketing skills, and start marketing it on Google.