Software
Best Hotjar Alternative – Have Look WatchThemLive as Best Option
Most online businesses, developers, and digital marketers are familiar with the question, "Now that I have a website or web app, what should I do next?" Most people are familiar with Google Analytics, but this tool is absolutely baffling and lacks meaningful events and visuals. On the other hand, marketers are finding Hotjar alternatives to track user behavior and interactions. 
In this article, we will review Hotjar, explain its pros and cons, and suggest a much better, inexpensive, and share details about Hotjar Alternative.
However, before heading over and subscribing to it, I wanted to issue a warning! Let's dive deep to see if it is worth breaking your pocket, or at least if it is easy to use, effective, and has no negative effects on your website's performance.
Analytics for digital marketers is like water for plants. But, in today's day and age, there must be some essential marketing skills to stay ahead in the digital game. That is the concern we ran into when we were helping platforms such as Ainfluencer, an influencer digital marketing hub. We tried Hotjar with this company to come up with our own conclusions.  
What Is Hotjar, and why do Digital Marketers Need it?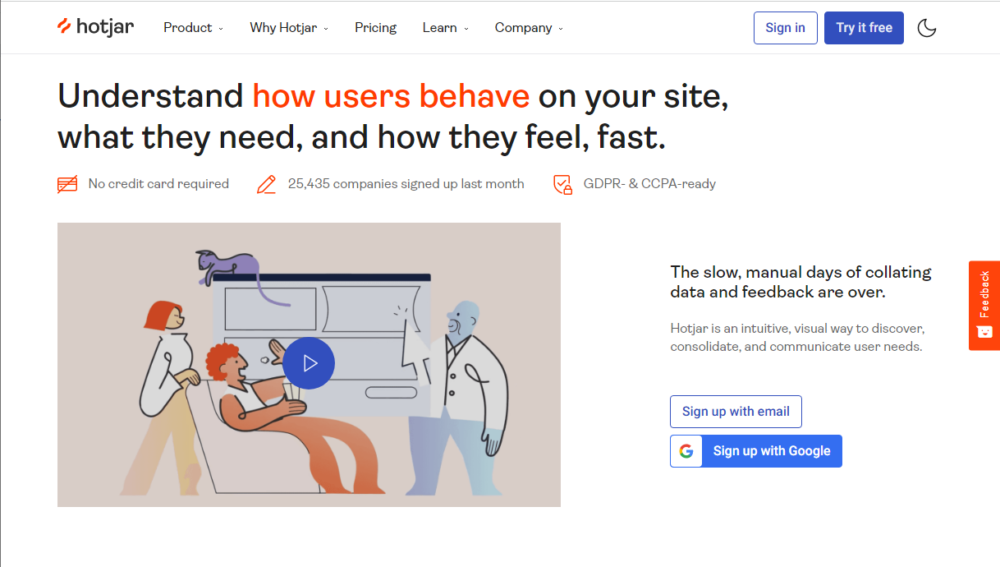 According to its website, Hotjar is "a visual way to discover, consolidate, and communicate user needs," which helps you better understand your users, their needs, and their behavior. 
Hotjar provides visual insight into the activities of web visitors. Businesses integrate it to visualize users' interactions, record their sessions, and increase conversion rates.  Marketers and developers use the software's insights to optimize their websites to fix glitches, u-turns, and broken pages. 
Hotjar's Features
The software features analytics tools such as session recordings, and live feedback.. However, Hotjar is best known for its heatmaps. We discuss these features more in-depth here.
Heatmaps
Heatmap is an approach to understanding user behavior in a simple and color-coded way. It shows where users click the most, how far down they scroll, and how often they hover over certain areas of a page. By using colors, heatmaps explain how people use your website, so you can easily identify the most popular areas. The hotter the color, the more interaction there will be.
Session Recording
Hotjar's session recordings show the users' interactions. You can see whether they have rage clicked, as well as view a replay of their entire session.
Feedback
Feedback lets you get opinions from users on any given web page. With this feature, you can create surveys to ask for users' feedback.
Hotjar Pros and Cons
Pros
Hotjar's heatmaps allow marketers to gain insights into user activity,  how visitors interact with the pages and their elements. As a result, you can optimize them and eliminate the ones that are rarely used.
In addition, you may learn what works and doesn't on your website by watching the session recordings. They make it possible to observe user activity and pinpoint drop-off locations.
Cons
Here are a few reasons you should stop using Hotjar:
1. It slows down your website.
A sluggish website can cause a variety of issues for your company, including:
Loss of visitors 

Negative SEO impacts 

Poor user experience

Low conversion rate
This issue has been highlighted by several users in their Hotjar reviews as shown below. 




2. Hotjar is more expensive than other software.
It is the most expensive analytics software in the market, even for larger companies and high-traffic websites. We'll go through the price in greater detail later.
Other solutions, like WatchThemLive, provide the same services as Hotjar at a more affordable price.

3. The free plan is very limited
If you choose to sign up for free, Hotjar only allows you to create up to three heatmaps for your website, and record up to 100 sessions per day. If you have a high-traffic website, this plan won't work for you.


Looking at the above cons, it seems like marketers need to find the best Hotjar alternative to fulfill their marketing needs. 
Read Here More Article: What is PimpAndHost? How to Access Pimp And Host?
Hotjar Plans and Pricing
Hotjar offers three types of plans, plus a 14-day free trial to new users:s:
Free basic plan (14-day trial)

Plus plan: $39/month

Business plan: $99-$289/month

Scale plan: $389-$989/month
The free plan is only intended for personal projects and websites with very low traffic. The plus plan, which collects up to 100 sessions per day, is also extremely insufficient for most startups and website owners.
Hotjar's corporate plan is significantly more expensive than the personal one because the cost depends on how many sessions you want to record each day. 
Prices and Plans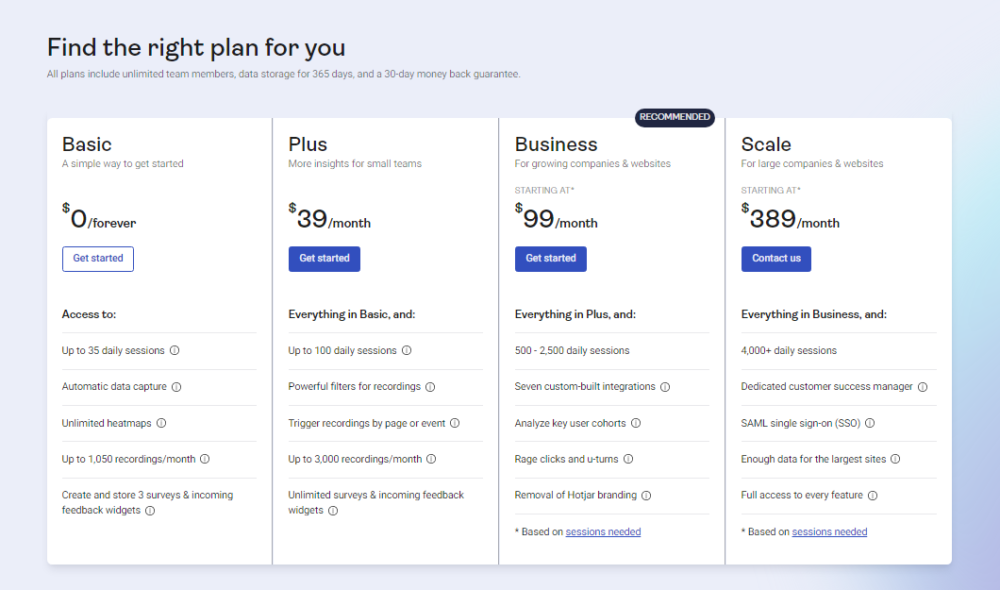 Note that if you wish to use this app for more than one website, you'll need to buy a different subscription for each one.
After reading our Hotjar review, you might be curious to see what else is out there. We are going to show you one of the most effective and inexpensive alternatives: WatchThemLive.
WatchThemLive is a user behavior analytics application that gives you all you need to know about your target audience. This tool is simple to set up; all you have to do is paste code into your website's main HTML. Then, it will begin collecting user activity data in the form of videos, heatmaps, and raw analytical data.
WatchThemLive Features
Here is a commercial video of WatchThemLive
WatchThemLive provides amazing services, such as heatmaps, session recordings, goal tracking, user tracking, page optimization, and analytics simpler than GA.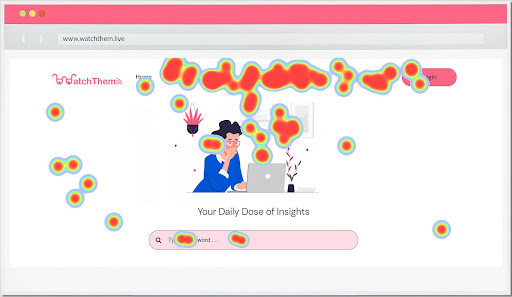 Heatmap example on WatchThemLive
On WatchThemLive, you can filter video recordings by country, browser, language, device type, screen resolution, and operating system.
One great advantage of WatchThemLive is goal tracking. Similar to funnels, you can set two types of goals. One is an event-based form submission, and the other is a given goal such as page views or button clicking. If your goal is an event, you should add its path. Otherwise, you'll receive a snippet code that you have to add to your header tags. 
Additionally, WatchThemLive has a handy and exclusive magnificent feature for user tracking. With this feature, you can track any data from a given visitor. 
You can also optimize a page by filtering all the visitors' recorded sessions and watching them all. So, it's a great tool to find glitches on a  page. 
These features allow you to gain a deep and thorough insight into your website's users and their minds while their privacy is protected, and you will have complete control over your data.
WatchThemLive Plans and Pricing
There are four different plans to pick from:
A FREE FOREVER plan: 5000 session recordings

Pro plan: $9/month – includes 50,000 session recordings

Advanced plan:  $39/month – includes 500,000 session recordings

Enterprise plan:  $149/month – includes 5000,000 session recordings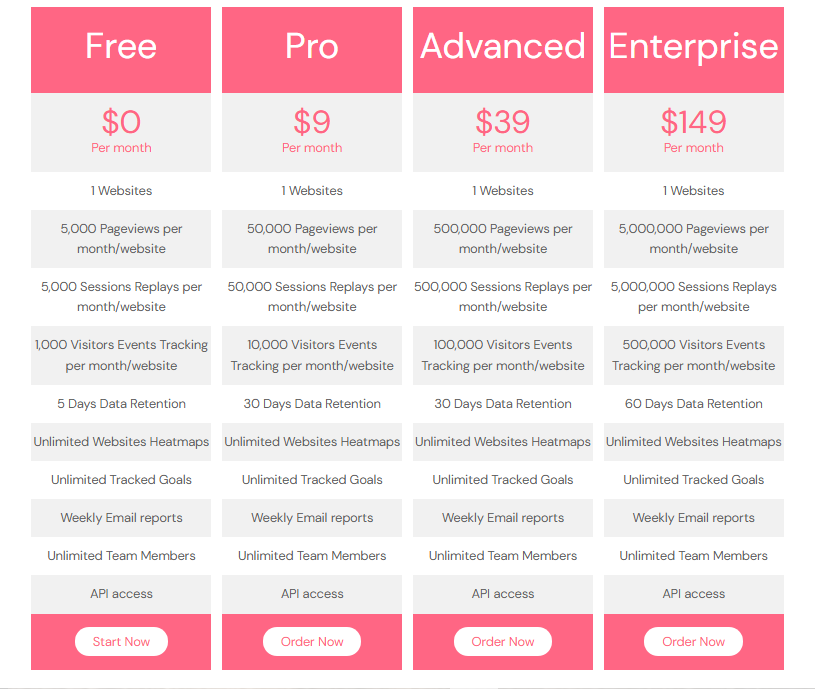 WatchThemLive Prices and Plans
All of the options allow you to add a website to the dashboard. You can also create as many heatmaps and conversion targets as you wish. The free plan includes 5,000 session replays, which is a lot more than Hotjar's free plan.
You can try out WatchThemLive by signing up for the free plan and finding out more about this application and its features.  
Win the Digital Race with Hotjar Alternative 
In spite of Hotjar's popularity, it still lacks a lot of the tools digital marketers need for their work and their client's websites. Some people have even reported that Hotjar's features (heatmaps, session recording, and feedback) are expensive and have slowed down their websites. And this is the reason people are searching for Hotjar alternatives to stay ahead in the game.
On the other hand, there are other alternatives that offer a  much stronger and affordable way to track users' activities on a website., WatchThemLive. is one of these powerful and inexpensive tools. The user interface is easy and simple to navigate, and it won't slow your website. Additionally, WatchThemLive empowers you with extra features such as visitor tracking, page tracking, and goal tracking. It is a practical solution for all-size companies, web apps, and websites.